Biography
Hi, I'm Jens Oliver Meiert (short: Jens, which is almost pronounced like "yes"). I'm an expert in web development where I specialize in HTML and CSS optimization, and I work as an engineering manager for LivePerson. I'm based in Hamburg, the city that inspired the food. In the past I used to share all sorts of career highlights and personal priorities (and also photos), but here are three major pieces to know about me:
1. Working for Google
I've worked for a variety of companies, but one of my most important stations has been Google (Switzerland and United States). I've developed Google's first HTML/CSS frameworks (Go and Maia). I've built and led a team on quality assurance on the Google Webmaster Team, as well as one for Google's company-wide HTML/CSS coding guidelines. My time with Google was pretty awesome.
2. Writing Books
I've written 16 books and booklets (you can get them at Amazon, Apple Books, Kobo, Google Play Books, Leanpub, and O'Reilly), some for my publisher, some self-published, most about tech, a few about other topics, some popular, many not. I frequently write articles, many for meiert.com, others for A List Apart, Smashing Magazine, or heise (where I've run a column). I also speak at conferences.
3. Trying Out Everything
I've traveled the world solo for one and a half years (557 days), visiting 6 continents and 48 countries. Overall I've been to a third of all countries in the world, and I like the idea of having seen half until I die (I still travel but it's not a high priority). One of my books describes the 2013–2015 journey, just as another describes how I don't only explore places, but also activities. I love trying things out.
❧ For random personal factoids about me: I'm a vegan, a green social democrat, a Werder Bremen member for life, a tabler (RT and OT 233 Alster-Milchstraße), a Süddeutsche, New York Times, and Vogue subscriber, a CS:GO player, a Drum & Bass listener (not exclusively), and someone who can do coffee and hummus.
If you like more detail, please see my standard CV (PDF), my profile at LinkedIn, or also an older long version of my biography. Thank you for the interest.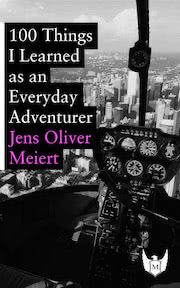 Perhaps my most interesting book: 100 Things I Learned as an Everyday Adventurer (2013). During my time in the States I started trying everything. Everything. Then I noticed that wasn't only fun, it was also useful. Available at Amazon, Apple Books, Kobo, Google Play Books, and Leanpub.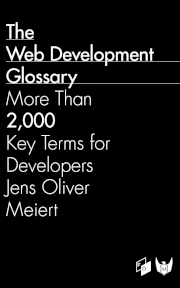 Perhaps my most comprehensive book: The Web Development Glossary (2020). With explanations and definitions for literally thousands of terms from Web Development and related fields, building on Wikipedia as well as the MDN Web Docs. Available at Apple Books, Kobo, Google Play Books, and Leanpub.