2014 (2)
Frankly, on fears.
In web development, just as in other fields, it can easily appear as if there are clear-cut solutions for everything. That's at least the case for many of us neurotic perfectionists, as our world is built on clear-cut solutions. Alas, there aren't always, and here are five general questions to consider.
I love reading, and over time I've been lucky to read many useful, and then a handful quite extraordinary books. Here I like to share my current non-fiction favorites: The Nature of Personal Reality, Getting More, Public Opinion, and three (3!) more.
Hyperlinks and the underlying ubiquitous <a> elements are what make the Web. Just a few weeks back, Christian Heilmann wrote a little about why and how links are important; here it's about accessibility aspects.
Generated content means a special option in CSS to embed content in documents. It's achieved through the content property. Fast forward, generated content should only be used for non-critical content; there it can be a very sharp instrument.
100 Things I Learned as an Everyday Adventurer contains one hundred activities that I share my experience with, but that I also rate in terms of cost, fun, and risk. However, the book doesn't make it easy to rank and compare the different activities…
I love dreaming. I love dreams. Dreams are fascinating. I've learned that dreams are realities just as real as this one, physical reality. I've learned that much when it comes to dream memory depends on one's own beliefs with respect to dreaming…
These days, and as juror for Design Made in Germany I see a lot of websites, many a designer knows how to make a page appear spacious, even grandiose. Alas, as many appear to have forgotten how to use space effectively…
Did you know that Google's Webmaster Team tweeted short statements about all HTML elements, every week, for two and a half years? It was called "#htmltuesday" and ran from 2011 to 2013. All of these tweets are now available in one place: here.
A couple of months ago I quit at Google and left the United States to travel the world. I thought it might be interesting to share a bit about how to do something like this, calling it quits and heading out there, with no set itinerary whatsoever.
Categories
Archives
By Year
By Month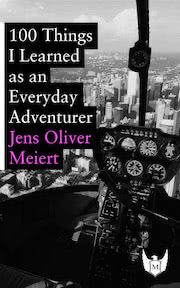 Find adventure anywhere? Try 100 Things I Learned as an Everyday Adventurer (2013). During my time in the States I started trying everything. Everything. Then I noticed that wasn't only fun, it was also useful. Available at Amazon, Apple Books, Kobo, Google Play Books, and Leanpub.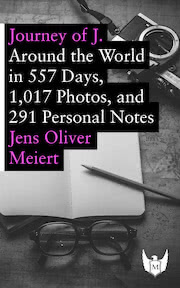 Curious about traveling the world—and open to a personal perspective? Try Journey of J. (2015). A freestyle documentary of 557 days of travel across 6 continents and 48 countries. Available at Amazon.