June 2016
Speaking of which.
Doubt led me to explore ways to grow, doubt now led me to ask my editor three times whether to publish under a pseudonym: I sketched, in what resembles a fluffy essay, how to learn, how to grow, or—How to Work on Oneself.
In my own non-academic studies I've found common definitions of "problem" unsatisfying. So I've tried to redefine "problem" for something more flexible, and I believe there's a redefinition that holds for common scenarios. Philosophize together with me.
If you like what you see here, check out my lightweight ebook on personal growth and development:
How to Work on Oneself.
Categories
Archives
By Year
By Month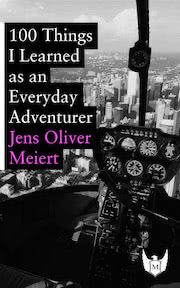 Perhaps my most interesting book: 100 Things I Learned as an Everyday Adventurer (2013). During my time in the States I started trying everything. Everything. Then I noticed that wasn't only fun, it was also useful. Available at Amazon, Apple Books, Kobo, Google Play Books, and Leanpub.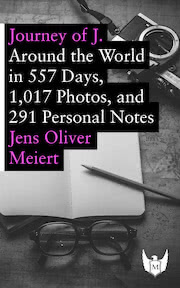 Perhaps my most personal and also most unusual book: Journey of J. (2015). A freestyle documentary of 557 days of travel across 6 continents and 48 countries. Available at Amazon.