2016 (2)
In my own non-academic studies I've found common definitions of "problem" unsatisfying. So I've tried to redefine "problem" for something more flexible, and I believe there's a redefinition that holds for common scenarios. Philosophize together with me.
About two weeks ago I ended a little lottery to give away signed copies of my last book, The Little Book of HTML/CSS Coding Guidelines. Here are feedback and winners.
I give away five signed copies, and to win one just comment or tweet (to @j9t), until April 30, why you deem coding guidelines important or what you find to be the most useful coding guideline.
Just when one wonders how many options there are exactly.
Some more of my EyeEm photos, published over the last few months, that have become others' or probably my own favorites.
This tool is so powerful and at the same time so trivial to make a routine that I ask everyone who regularly employs it to transcend their disappointment—I'm mentioning it for the people I meet who don't use it.
On a wish for more work on a vision, on values, on principles, on goals actually worth striving for, on utopias, on a good future, a good cause, a good world for all of us.
…to contribute to good causes.
Not just since the Law of Attraction is there this idea of "like attracts like," of self-fulfilling prophecies, of better being "careful" what we wish for. There's another concept that I do like to work with though, in another thought experiment.
What's not to ♥ about coding standards.
One cannot not maintain. This is an important axiom, critical even when we recognize how little understanding and prioritization this topic enjoys in our industry…
Amidst all the wars we never wanted but our governments and industries wage and participate in regardless of our will, we threaten to lose sight of our goal. That goal, surely, is peace. That goal, clearly, is durable peace. That goal, indeed, is endless peace.
If you like what you see here, check out
How to Work on Oneself
for a lightweight look at personal growth and development.
Categories
Archives
By Year
By Month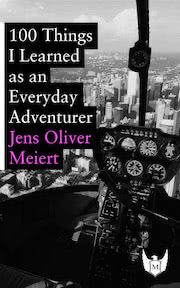 Find adventure anywhere? Try 100 Things I Learned as an Everyday Adventurer (2013). During my time in the States I started trying everything. Everything. Then I noticed that wasn't only fun, it was also useful. Available at Amazon, Apple Books, Kobo, Google Play Books, and Leanpub.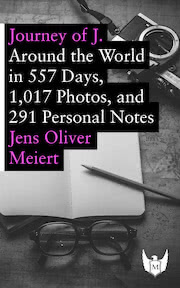 Curious about traveling the world—and open to a personal perspective? Try Journey of J. (2015). A freestyle documentary of 557 days of travel across 6 continents and 48 countries. Available at Amazon.