April 2017
On work, retirement, definitions, and mixing things up.
"Who actually saw, heard, felt, counted, named the thing, about which you have an opinion? Was it the man who told you, or the man who told him, or someone still further removed? And how much was he permitted to see?"
"Man is a thinking center, and can originate thought. All the forms that man fashions with his hands must first exist in his thought; he cannot shape a thing until he has thought that thing."
If you like what you see here, have a closer look at
my books
.
Categories
Archives
By Year
By Month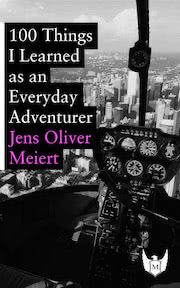 Perhaps my most interesting book: 100 Things I Learned as an Everyday Adventurer (2013). During my time in the States I started trying everything. Everything. Then I noticed that wasn't only fun, it was also useful. Available at Amazon, Apple Books, Kobo, Google Play Books, and Leanpub.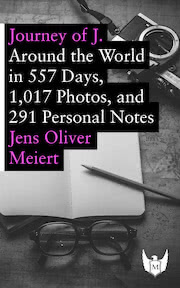 Perhaps my most personal and also most unusual book: Journey of J. (2015). A freestyle documentary of 557 days of travel across 6 continents and 48 countries. Available at Amazon.