Adventure
For countless years has it been a thing to romanticize the lifestyle of digital and global nomads, of people who live and work remotely. I believe there's also much to question.
While I'm not nearly as adventurous these days as in past years, the idea that adventure is about being open and curious and easily ready to try activities and localities seems sound to me. On what adventure can mean to us.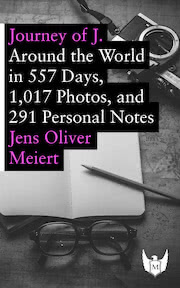 Mostly for planned closure, somewhat for playful curiosity, I wrote another book. Journey of J.—Around the World in 557 Days, 1,017 Photos, and 291 Personal Notes is about the long and eventful trip…
Traveling the world one inevitably runs into places one cannot simply enter. Other places one doesn't want to simply enter. For purposes of tracking both I had, during my 18-month world trip, set up a special country intel sheet…
For my 557-day journey around the world I had prepared thoroughly. Emphasis had been on light luggage, and so I had focused on necessities and gear that didn't weigh much and, for clothes, could dry quickly. Here I'll share some parts of my inventory…
It's over. A couple of weeks ago I came to a halt, after traveling the world for what now feels like a lifetime. Here's one way to tell the story.
This is going to be a bit, lengthy. I told you I had traded activities for locations. Continuing the trip around the world that I began last year, here's where I went in 2014.
At the end of every year I'm recollecting new things I've done and new places I've seen. Here's what I tried in 2014.
For long travels, another key beside safety is health. And as my track record in this regard is flawless, essentially, I thought to share a few quick ideas on this, too.
I've traveled for the last 13 months, with no end in sight, and have so far visited around 150 locations in 30 countries. I've stayed safe the entire time even though I didn't lock myself up. Here are a few thoughts and tips.
I've written about what I deem important in order to quit and travel the world. One of the points I called out was "Planning and Preparation," and it's what I like to explore a bit more here.
Last December I launched Animated Traffic. Animated Traffic is an experiment in which I play with photo animations that feed off my eternal journey, of which I'll share the results. The material, as of this moment, made for 302 posts covering 4 continents…
The longer you travel, the lighter you should pack.
100 Things I Learned as an Everyday Adventurer contains one hundred activities that I share my experience with, but that I also rate in terms of cost, fun, and risk. However, the book doesn't make it easy to rank and compare the different activities…
A couple of months ago I quit at Google and left the United States to travel the world. I thought it might be interesting to share a bit about how to do something like this, calling it quits and heading out there, with no set itinerary whatsoever.
Traditionally I post a list of all the new places I visited during a year in some sort of year-end review, too. This year is no exception.
The same procedure as every year: a brief look back at new things I tried.
In "100 Things I Learned as an Everyday Adventurer" I'm not just sharing my own view on one hundred different activities and things I tried, but also some ideas and tips on what I think it takes to become a more adventurous person. That part is something I like to…
I started another side project. It's about taking a ton of photos of street scenery, working some magic that I talk about in this very post, and putting the results up on Tumblr. On the one new travel tumblr art installation that I call Animated Traffic.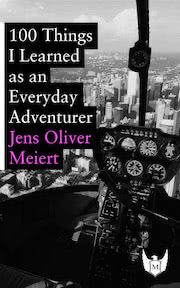 I wrote a new book! Not about web development, again, not about philosophy or social sciences, yet, but about all the different activities I've been doing over the last few years, in all my infinite free time. And what I learned in one hundred of them.
48 more ways to use one's time.
Beside working and growing and trying new things, I've been in the great position to also travel a little. I'm very grateful. This year I visited 5 continents, more than 20 different countries, and probably more than 50 different cities…
Or: 43 things that make someone who has no idea about anything he's doing look like he knows everything, the 2011 edition.
31 activities, 0 vacation days. Mr Meiert's guide on how to make good use of your time and make 1 year feel like 3.
From Amsterdam to Berlin to Cardiff… all the way to Zurich. The same procedure as at least last year.
Categories
Archives
By Year
By Month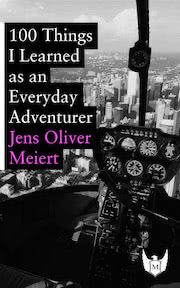 Find adventure anywhere? Try 100 Things I Learned as an Everyday Adventurer (2013). During my time in the States I started trying everything. Everything. Then I noticed that wasn't only fun, it was also useful. Available at Amazon, Apple Books, Kobo, Google Play Books, and Leanpub.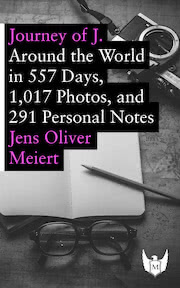 Curious about traveling the world—and open to a personal perspective? Try Journey of J. (2015). A freestyle documentary of 557 days of travel across 6 continents and 48 countries. Available at Amazon.