Art and Design (2)
If I were to pick the main issue in web design… I couldn't answer immediately. I don't think there are so many, but there are a few, they are very different, they operate on different scales, and so they're hard to compare. One, however, is "fire and forget."
The observation that there seem to be good reasons to allow most photography—to charge extra for it if necessary—, but none to offend visitors by banning it.
Some of my favorite and most popular photos lately.
Web design has become complex. More people, more ideas, more use cases, more technical innovations, more design variations, &c. pp. More makes for more complex. However, there's a life line helping us with this complexity, as well as trends.
I love what technology has allowed all of us to do, from writing and publishing for the masses to designing and coding for the masses to photography and arts for the masses. But as a professional in an industry that is easy for people to enter…
Last December I launched Animated Traffic. Animated Traffic is an experiment in which I play with photo animations that feed off my eternal journey, of which I'll share the results. The material, as of this moment, made for 302 posts covering 4 continents…
These days, and as juror for Design Made in Germany I see a lot of websites, many a designer knows how to make a page appear spacious, even grandiose. Alas, as many appear to have forgotten how to use space effectively…
I started another side project. It's about taking a ton of photos of street scenery, working some magic that I talk about in this very post, and putting the results up on Tumblr. On the one new travel tumblr art installation that I call Animated Traffic.
But not here, on onethousandthankyous.org.
Print style sheets are awesome. They're easy to write, too. Site owners and developers who care about print typically know what to do. Alas there's one thing that's done rather the wrong than in any right way: printing URLs…
Let's speak the unspeakable: Correct punctuation, here referring to the use of the correct characters for quotation marks, apostrophes, dashes, and ellipses, will forever remain a dream online…
The System Usability Scale (SUS) is a Likert scale-based questionnaire to grade the usability of systems, which John Brooke created back in the 80s. SUS results yield a score between 0 and 100, with 100 indicating "best" usability…
Developing and working with international sites is an interesting challenge, not just because of right-to-left contents. Typographically, there are differences between many locales. To improve punctuation in Google translations I'm using a localization aid…
I'm doing it again: Do you have another 15 seconds to answer a couple of questions? The survey is based on the System Usability Scale (SUS) John Brooke presented in the 80s. Which means nothing less than that there's another experiment taking place with me testing SUS.
Alright I cheated, this isn't a secret. Or an open secret. Or whatever. It's that web design is a process. Good web design is an ongoing endeavor.
When I tried to define art, design, and decoration, I described art as: "Art hides. Art has a meaning, and it hides it, on purpose. Art delivers a message, and that message is hidden, on purpose. It is an art to create art. Art is unusable, by definition." Continued.
…is probably one of the most important questions there is. "Compared to what?" is the question that should be answered every time it is about data, be it through charts, in newspapers, on websites, or in conversations. Yet it is rarely asked, rarely answered, and people end up with less or even false information.
Following up on last year's post on web design research, here's another collection of research findings, this time featuring further reading.
Moving up industrial design on my agenda and studying the work of German top designer Dieter Rams (who was responsible for the great design of Braun products for about 30 years), I deemed it useful to republish his design theses.
Attempting to improve my simplified definition of design I'd like to point out another important attribute beside functionality, namely durability (or robustness). This means that a design that works may nonetheless be bad if…
Smashing Magazine just published my article on "20 (Alternate) Ways to Focus on Users," and not only do I like to point to the article, I also like to extend it. A quick bonus level, so to speak.
Information design time travel with several photos of Zorn's ancient "Grammar of the Art of Dancing." Featuring craftsmanship, small multiples, and, surprise, "narratives of time and space."
This has bothered me for for a long time. The topic popped up when I thought about art and design, and it had to be covered when Roger asked whether we were designers or developers—
Best practices for website prototypes based on HTML, CSS, and DOM scripting, covering essential requirements from accessibility to universality, and including definitions, pros, and contras. Compiled from a recent presentation.
Much thinking about design has led me to the conclusion that defining the terms art, design, and decoration can be pretty simple. Outlining their principles, at least.
If you like what you see here, consider the ebook version of all 2005–2015 posts on web design and development:
On Web Development.
Categories
Archives
By Year
By Month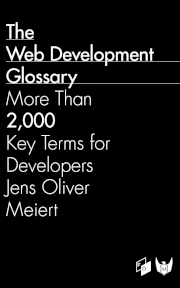 Get a good look at web development? Try The Web Development Glossary (2020). With explanations and definitions for literally thousands of terms from Web Development and related fields, building on Wikipedia as well as the MDN Web Docs. Available at Apple Books, Kobo, Google Play Books, and Leanpub.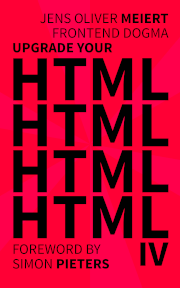 Friend of optimized HTML? Try Upgrade Your HTML (2019–2022). Good HTML isn't easy. Minimal HTML is underrated. Production HTML can often be improved. This series does so. Available at Amazon, Apple Books, Kobo, Google Play Books, and Leanpub.