Art and Design (3)
A quality website doesn't fall from the sky, and it's impossible to create in a few fast clicks. When setting up a website, one needs goals, content, structure, design, programming, and maintenance. What one needs is…
I'm still working on the second edition of Webdesign mit CSS. And I can say: I like this work, though updating a book is more challenging than starting from scratch. It looks like less work at first, but that work is different.
About 20 years ago, John Brooke published the concept of a "System Usability Scale," a "reliable, low-cost usability scale that can be used for global assessments of systems usability." SUS is based on a Likert-scale questionnaire…
Today I thought I'd share some of the most valuable usability and user experience articles and resources I know, in a somewhat wild mix. Since there's presumably enough to read and talk about later, please welcome a few great articles and research papers…
An important finding of Stanford University's work regarding web credibility is that photos can make websites more credible. A study by B.J. Fogg et al. showed how "a photograph of an author had significant effects on how people perceived "…
…is a good rule of thumb when you need a web designer or developer. Though it's not necessarily the most important criterion, the benefits are obvious. Web designers who also own websites are more likely to be close to the medium…
"1 + 1 = 3 (or more)" is an important design effect described by Josef Albers and Edward Tufte. It means that two elements in close proximity cause a visible interaction…
A small selection of research findings related to web design, usability, and accessibility, most of them obtained from Human Factors International. With some of them being known, others may add to the understanding of our profession.
If you like what you see here, consider the ebook version of all 2005–2015 posts on web design and development:
On Web Development.
Categories
Archives
By Year
By Month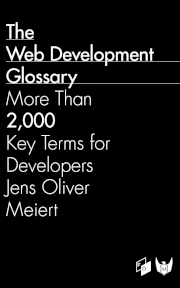 Get a good look at web development? Try The Web Development Glossary (2020). With explanations and definitions for literally thousands of terms from Web Development and related fields, building on Wikipedia as well as the MDN Web Docs. Available at Apple Books, Kobo, Google Play Books, and Leanpub.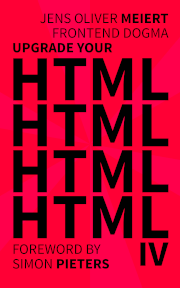 Friend of optimized HTML? Try Upgrade Your HTML (2019–2022). Good HTML isn't easy. Minimal HTML is underrated. Production HTML can often be improved. This series does so. Available at Amazon, Apple Books, Kobo, Google Play Books, and Leanpub.