Web Development (3)
We've talked a lot about declarations as declarations are at the heart of our work with direct consequences for the quality of our style sheets. We've not talked much about selectors, though, and that may be a mistake.
Grow is a static site generator that I've slowly been switching to on my own projects. Here I wish to lay out how to do something with Grow that's not overly difficult, but also not well-documented—to set up syndication feeds.
Using declarations just once is one way to control repetition in style sheets. It's not a silver bullet, as we've seen with recent data, but it's so powerful as to make for a key style sheet optimization method.
A word about one of CSS's horsemen of the apocalypse.
Consistency is a factor for code quality and one of the key reasons why we need coding guidelines. Interestingly enough there are three levels of consistency: individual, collective, and institutional.
Code simplicity seems to be a goal quite worthwhile, contributing to better understanding, greater robustness, and higher quality. That's at least what comes to my mind when looking at the matter…
Surprisingly a snippet from The Little Book of Website Quality Control, not the one of HTML/CSS coding guidelines, a few thoughts on enforcing coding standards.
A visual attempt to show how for everything built for the long run, external frameworks are a pricey crutch that has to be avoided or be thrown away at the earliest time. The reasons: quality—and cost.
From @charset to @viewport. Or from @bottom-center to @top-right-corner.
Evidently, learning is important, and learning strategies are, too, and how to generally work on ourselves, absolutely, but what else to aim for apart from understanding computer science fundamentals, reading the specs, and—coding?
Imagine you just moved into a new place, and realize that you lack a screwdriver to put up some of your furniture (it's not from IKEA). You ring at your neighbors', find one who's home, and she…
To me, websites are living objects. They require regular care and maintenance. Such care starts with monitoring, from uptime control to visual site tests, demands technical quality control, and ends with content checks…
Eight years. Eight years has it been since the last episode of this series, "Website Optimization Measures." In October of 2009, I last talked about more or less random things I did on my own websites…
Many moons ago I wrote that web developers wouldn't need debugging tools. I was half joking and half serious. We were just coming out of the dark ages of web development, so to speak, undernourished of useful tools, frameworks, libraries…
We are raising tool-dependent rather than self-reliant developers. Aren't we.
On building Google's Go and Maia HTML/CSS frameworks, and succeeding and failing as a tech lead.
Of course, always leave code better than you found it.
Or, when Jens found out that he could just collect websites that use reset style sheets and the like, disable those style sheets, document the results and write a post with the diffs for visual evidence. All because "we ran after this mirage for more than a decade."
On a sunny Tuesday in Düsseldorf a few weeks back, at Beyond Tellerrand, I had a pleasant recorded conversation with the team of Working Draft. In our discussion we briefly touched on the idea of web development paradigms…
Four weeks ago I started a survey about good and bad practices when it comes to the maintenance and maintainability of websites. Participation was amazing, and here are the first results.
Looking at data for some of the most popular websites, we repeat ourselves too much in CSS; using declarations just once is often one solid avenue to avoid repetition; together, we need to put more focus on style sheet optimization.
The maintenance and economics of websites is a much-neglected topic in the web development community. Here are three questions for developers, to gather practices as well as resources.
Web development, at more than 20 years of age, is becoming an increasingly mature profession. Web development is yet also subject to constant change, and the field produces more of that change, out of itself. More technological standards…
A few quick comments on Catalin Rosu's interesting follow-up analysis of his sampling of eight million websites. Some practices are wonderful to note, others have been commented on, yet one or the other point drowned.
Clearly, quality requires quality thinking. But then it requires a lot more, like definitions, criteria, tools, planning, enforcement, &c. pp. And it relies on some organizational foundation.
If you like what you see here, consider the ebook version of all of my 2005–2015 posts on web design and development:
On Web Development.
Categories
Archives
By Year
By Month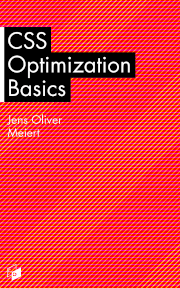 Perhaps my most relevant book: CSS Optimization Basics (2018). Writing CSS is a craft. As craftspeople we strive to write high quality CSS. In CSS Optimization Basics I lay out some of the most important aspects of such CSS. (Also available in a bundle with Upgrade Your HTML and The Web Development Glossary.)