Web Development (3)
When we type down CSS like we've done 20 years ago, and when we work with ever more abstractions, what does that mean for our craft?
Video, slides, and resources for my talk at beyond tellerrand in Düsseldorf.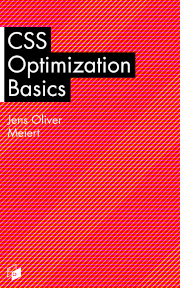 My latest little book, covering mindsets needed for writing effective style sheets, optimization options during operation and for production, and useful resources to aid and inform the work with CSS. (Pay what you want.)
When we think of user focus we easily think of usability tests, following a usually strong wish to produce something that's actually useful. For us as web developers, focus on the user has a tendency to appear distant though…
Adam Wathan wrote one of the most interesting web development articles I've read in the last few months: CSS Utility Classes and "Separation of Concerns." At least until "Phase 3" there's much to learn about current web development…
We know that there's excessive declaration repetition in the Web's style sheets, that each declaration is on average repeated 2–3 times, often needlessly. We know that this repetition is a little less bad on tech sites…
The result of reviewing, normalizing, rephrasing, sorting, and testing 134 responses to a maintainability survey that yielded more than 500 data points, to form a new guide, a new and more definite guide to web maintainability.
Extremes can be useful. In practice they help get the maximum out of a given approach, and in theory they can show what we're headed to. Compare two ways of writing CSS—like Tachyons or Atomic CSS, and 2000's idealistic engineering.
As web developers we have decisions to make and our decisions depend on a few variables. Two that have become much more important over the years are the one of code for research or production, and the one of web site or app…
Excitement about a success story.
From my upcoming book on CSS optimization: Selector performance is not something to optimize for as the price we pay for it is terrible: We micro-manage our work for gains that aren't noticeable.
Thoughts on thinking outside the box, in tech, with examples ranging from selector performance to a general development vision, to illustrate how very different issues can all reach beyond their perimeter.
We've talked a lot about declarations as declarations are at the heart of our work with direct consequences for the quality of our style sheets. We've not talked much about selectors, though, and that may be a mistake.
Grow is a static site generator that I've slowly been switching to on my own projects. Here I wish to lay out how to do something with Grow that's not overly difficult, but also not well-documented—to set up syndication feeds.
Using declarations just once is one way to control repetition in style sheets. It's not a silver bullet, as we've seen with recent data, but it's so powerful as to make for a key style sheet optimization method.
A word about one of CSS's horsemen of the apocalypse.
Consistency is a factor for code quality and one of the key reasons why we need coding guidelines. Interestingly enough there are three levels of consistency: individual, collective, and institutional.
Code simplicity seems to be a goal quite worthwhile, contributing to better understanding, greater robustness, and higher quality. That's at least what comes to my mind when looking at the matter…
Surprisingly a snippet from The Little Book of Website Quality Control, not the one of HTML/CSS coding guidelines, a few thoughts on enforcing coding standards.
A visual attempt to show how for everything built for the long run, external frameworks are a pricey crutch that has to be avoided or be thrown away at the earliest time. The reasons: quality—and cost.
From @charset to @viewport. Or from @bottom-center to @top-right-corner.
Evidently, learning is important, and learning strategies are, too, and how to generally work on ourselves, absolutely, but what else to aim for apart from understanding computer science fundamentals, reading the specs, and—coding?
Imagine you just moved into a new place, and realize that you lack a screwdriver to put up some of your furniture (it's not from IKEA). You ring at your neighbors', find one who's home, and she…
To me, websites are living objects. They require regular care and maintenance. Such care starts with monitoring, from uptime control to visual site tests, demands technical quality control, and ends with content checks…
Eight years. Eight years has it been since the last episode of this series, "Website Optimization Measures." In October of 2009, I last talked about more or less random things I did on my own websites…
If you like what you see here, consider the ebook version of all of my 2005–2015 posts on web design and development:
On Web Development.
Categories
Archives
By Year
By Month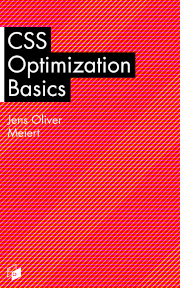 Perhaps my most relevant book: CSS Optimization Basics (2018). Writing CSS is a craft. As craftspeople we strive to write high quality CSS. In CSS Optimization Basics I lay out some of the most important aspects of such CSS. Available at Amazon, Google Play Books, and Leanpub.