Philosophy
On a game we could stop playing.
With or without The Complete Conversations with God, The Nature of Personal Reality, and Loving What Is?
On the things we are doing and not doing, how these things are not and cannot be accidents, and how it all revolves around choice.
"There cannot be the least contradiction in the idea that physical and psychical phenomena follow different laws, as long as these laws are not irreconcilable with the actual unity of the psycho-physical individual."
It may be rather clear that life is not all about being happy.
"Our system of education turns young people out of the schools able to read, but for the most part unable to weigh evidence or to form an independent opinion."
Google+ is shutting down, pulling everything with it. I've used Google+. And although I've changed and would put a few things differently now, I decided to archive a few of the somewhat philosophical Google+ posts.
Is ours a highly evolved culture?
"Yet I exist in the hope that these memoirs, in some manner, I know not how, may find their way to the minds of humanity in Some Dimension, and may stir up a race of rebels who shall refuse to be confined to limited Dimensionality."
My back-burner philosophical work revolves around one idea: that what creates and makes for our reality, in quite practical terms, is what we believe. That idea is profound and requires more: research.
"This organisation of the proletarians into a class, and consequently into a political party, is continually being upset again by the competition between the workers themselves."
On some days, if you asked me about what we know, with absolute certainty, I'd respond with "only that something exists." And if you asked me what that meant, then I'd add "to appreciate and work with what exists."
There's no proof that life has meaning; therefore, life is meaningless. Wait, what?
No, this question is not new. However it's one I want to ponder with you because it much seems like something truly terrible has happened over the centuries.
Arguing is something we have to learn. I observed this particularly in recent years when I started studying philosophy and went through courses for logic and argumentation theory. These courses…
There seems to be something to luck, and bad luck.
I call myself a philosopher even though some people would disagree with me being one. Why would I be a philosopher? What makes a philosopher?
"The very importance of thought for life makes necessary its control by education because of its natural tendency to go astray, and because social influences exist that tend to form habits of thought leading to inadequate and erroneous beliefs."
When not finding signs of extraterrestrial intelligence says more about us than them.
"Man is a thinking center, and can originate thought. All the forms that man fashions with his hands must first exist in his thought; he cannot shape a thing until he has thought that thing."
Several months back, to myself, I noted how we may have all already been what we've later wished to be: for example, authentically curious, interested, open, unbiased, worry-free, joyful, happy, confident, loving. Then, I thought, came socialization.
"Thoughts strive to take form in action. Thoughts strive ever to materialize themselves in objective material form."
"Each creature is only a modification of the other; the likeness in them is more than the difference, and their radical law is one and the same."
When we are presented with conflicting beliefs and ideas, which ones are we to support or assume? That question, in our age of scientism, is usually answered with "those that are true," or "those that are more realistic"…
On my list of research topics and article drafts is one that covers root assumptions: assumptions at the core of what we assume about our two realities, psychical and physical reality. One of these root assumptions covers logic…
If you like what you see here, check out
How to Work on Oneself
for a lightweight look at personal growth and development.
Categories
Archives
By Year
By Month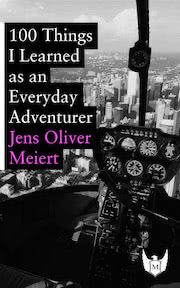 Find adventure anywhere? Try 100 Things I Learned as an Everyday Adventurer (2013). During my time in the States I started trying everything. Everything. Then I noticed that wasn't only fun, it was also useful. Available at Amazon, Apple Books, Kobo, Google Play Books, and Leanpub.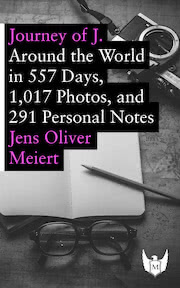 Curious about traveling the world—and open to a personal perspective? Try Journey of J. (2015). A freestyle documentary of 557 days of travel across 6 continents and 48 countries. Available at Amazon.