New Book: "The Little Book of Website Quality Control"
Post from September 27, 2016 (↻ October 22, 2022), filed under Web Development (feed).
This book, released in 2016, lives on in a lovingly updated and extended remake: Check out The Little Book of Little Books on Amazon, Apple Books, Kobo, Google Play Books, Leanpub, and Gumroad.
This book is one of my weakest.
The hallmark of a professional is not the pursuit of activity, but the expertly pursuit thereof. What's worth doing is worth doing well; and what's done well exemplifies quality. A professional website is no exception. Sometimes it's hard to tell, objectively, what's done well, but then there are criteria and tools to help. What criteria and what tools I just sketched in another Little Book: The Little Book of Website Quality Control.
If you guess that the book relates to my quality efforts at Google as well as my work on tools collection UITest.com, you're right on both counts.
Format and Price
Ebook, free
Paperback, currently not available
Extras
Foreword by Kevin Khaw
Length
47 pages

(PDF)

ISBN
978-1-4919-6633-4
Description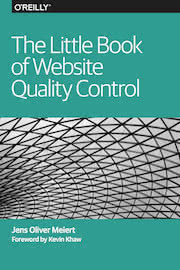 Why bother with quality control when building a website? Simple. Quality control (QC) helps you determine whether your site meets your own expectations and, more important, whether it meets professional best practices. Without QC, you have no way of telling whether your site is any good prior to unleashing it upon the world. QC can save you time, money, and a lot of anxiety.

This short book covers QC for several website aspects—such as security, functionality, and code quality—and provides links to many useful tools that can help you in each of these areas. Author Jens Oliver Meiert also explores important areas of QC in practice, which requires training and is dependent on team mindset, automation, and enforcement.

Due to key differences in approach, this ebook focuses specifically on quality control for websites rather than web apps.

This ebook covers:

Security
Accessibility
Usability
Performance
Functionality
Maintainability
Semantics
Validation
Design consistency and layout
Typography
Code quality
Coding standard compliance

Jens Oliver Meiert is a former senior developer and tech lead at Google, Aperto, and GMX, where he architected internal frameworks that married fast development with high quality code. He's the author of several books, including The Little Book of HTML/CSS Frameworks and The Little Book of HTML/CSS Coding Guidelines (both O'Reilly).
❧ Special thanks, slightly extending the acknowledgments presented in the book, go to three teams: The 2001–2003 team of OPEN KNOWLEDGE, the 2008–2013 Google Webmaster Team, as well as the 2016 editors and production team of O'Reilly. Thank you; you all have been and you all are wonderful.
About Me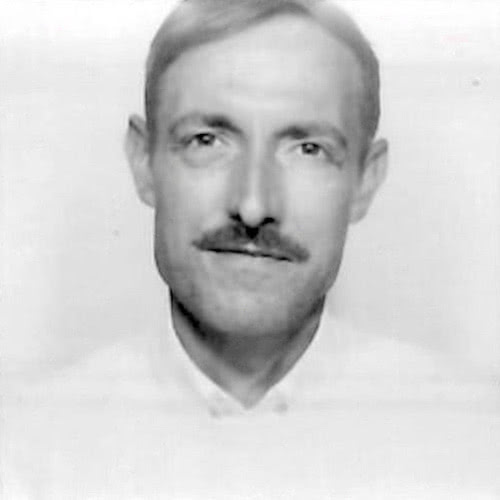 I'm Jens, and I'm an engineering lead and author. I've worked as a technical lead for Google, I'm close to W3C and WHATWG, and I write and review books for O'Reilly. I love trying things, sometimes including philosophy, art, and adventure. Here on meiert.com I share some of my views and experiences.
If you have a question or suggestion about what I write, please leave a comment (if available) or a message. Thank you!
Read More
Maybe this is interesting to you, too:
Looking for a way to comment? Comments have been disabled, unfortunately.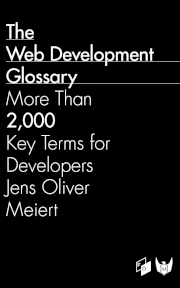 Get a good look at web development? Try The Web Development Glossary (2020). With explanations and definitions for literally thousands of terms from Web Development and related fields, building on Wikipedia as well as the MDN Web Docs. Available at Apple Books, Kobo, Google Play Books, and Leanpub.