The Greatest Secret in Web Design
Post from December 1, 2008 (↻ May 30, 2021), filed under Web Development and Art and Design (feed).
This and many other posts are also available as a pretty, well-behaved ebook: On Web Development.
Alright I cheated, this isn't a secret. Or an open secret. Or whatever. It's that web design is a process. Good web design is an ongoing endeavor.
Let's have a quick look at two stunning graphs.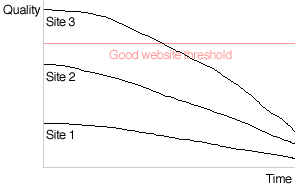 Figure: Three websites, unmaintained.
Figure: Three websites, maintained continuously.
What's the lesson? Even if you hired the greatest designers and developers and aimed for high quality, your website will become stale if you don't focus on adding value as well as regularly maintaining your site. However, even if you screwed it up at the beginning you can make a horrible site okay or even good when you focus on maintaining your site as well as adding value to it.
Don't get lured by the bad guys out there or the oversimplifying guy over here: Web design is a process, and constantly improving is key for success. That adds to the cost of running a website but it's how our business works.
About Me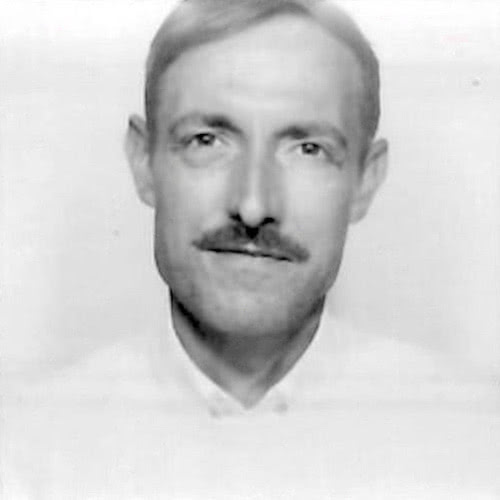 I'm Jens, and I'm an engineering lead and author. I've worked as a technical lead for Google, I'm close to W3C and WHATWG, and I write and review books for O'Reilly. I love trying things, sometimes including philosophy, art, and adventure. Here on meiert.com I share some of my views and experiences.
If you have a question or suggestion about what I write, please leave a comment (if available) or a message. Thank you!
Comments (Closed)
Read More
Maybe this is interesting to you, too:
Looking for a way to comment? Comments have been disabled, unfortunately.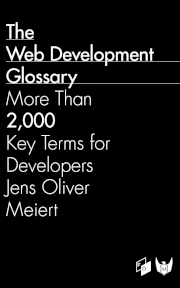 Get a good look at web development? Try The Web Development Glossary (2020). With explanations and definitions for literally thousands of terms from Web Development and related fields, building on Wikipedia as well as the MDN Web Docs. Available at Apple Books, Kobo, Google Play Books, and Leanpub.