WDR #1: Versioned Style Sheets
Post from November 15, 2008 (↻ December 12, 2016), filed under Web Development.
This and many other posts are also available as a pretty, well-behaved e-book: On Web Development.
Ladies and gents, all I present's… the Web Dev Report, issue #1: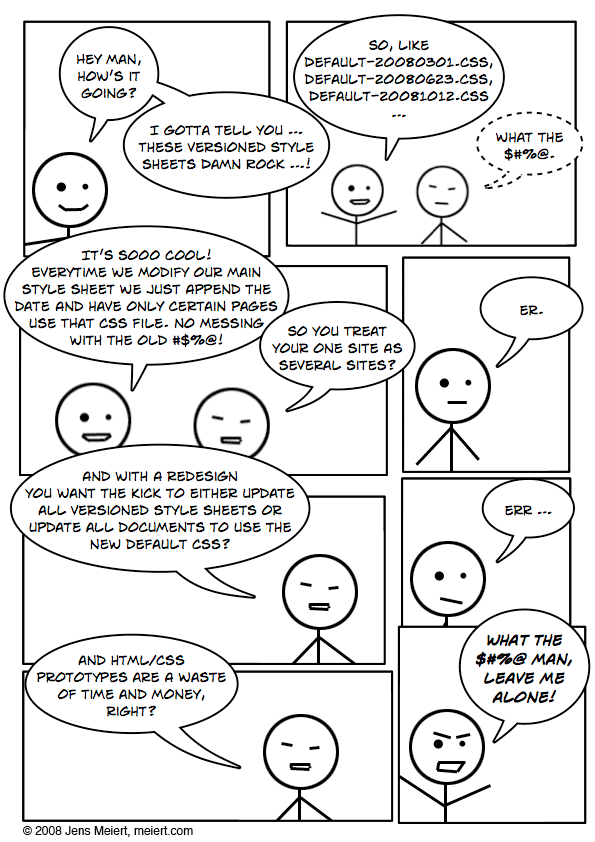 Transcript. (Marked up in reference to § 10.3, yet missing the dialog element.)
Guy 1:

Hey man, how's it going?
I gotta tell you… these versioned style sheets damn rock…!
So, like default-20080301.css, default-20080623.css, default-20081012.css…

Guy 2:

(What the $#%@.)

Guy 1:

It's sooo cool! Every time we modify our main style sheet we just append the date and have only certain pages use that CSS file. No messing with the old #$%@!

Guy 2:

So you treat your one site as several sites?

Guy 1:

Er.

Guy 2:

And with a redesign you want the kick to either update all versioned style sheets or update all documents to use the new default CSS?

Guy 1:

Err…

Guy 2:

And HTML/CSS prototypes are a waste of time and money, right?

Guy 1:

What the $#%@ man, leave me alone!
"Versioned" wasn't known to Merriam-Webster and other dictionaries but it's so popular, I decided to keep with it. More importantly, let's see what happens to the report. Will there be an issue #2?
About the Author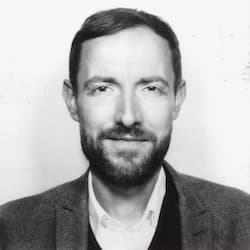 Jens Oliver Meiert is a tech lead and author (sum.cumo, W3C, O'Reilly). He experiments with philosophy, art, and adventure. Here on meiert.com he shares and generalizes and exaggerates some of his thoughts and experiences.
There's more Jens in the archives and at Goodreads. If you have any questions or concerns (or recommendations) about what he writes, leave a comment or a message.
Comments (Closed)
Read More
Have a look at the most popular posts, possibly including:
Looking for a way to comment? Comments have been disabled, unfortunately.