Quality Assurance
Get a chance on 10 U.S. dollars—or have 10 dollars donated—as a courtesy for issues you spot on this site! This website is intended to be factually and technically accurate, yet the growing amount of information on it increases the likelihood of mistakes. Therefore, if you contribute to improvements I wish to reciprocate.
How Does It Work?
When you find an error, be it factual, orthographic, or usability-related, email me at jens@meiert.com.
Usually I confirm every error report as well as the suspected issue. At the end of each month (sometimes delayed), the biggest bug or most helpful report, respectively, is selected and their sender rewarded with 10 U.S. dollars.
"Winners" have two weeks to reply after they got notified. The money is either paid out by bank transfer (Europe) or PayPal (international), and may alternatively be donated to a charity that offers either of the two payment methods. Please note that there are no other payment options and that there is no legal claim to payment, since the definition and assessment of a mistake may be difficult, subjective, or both. Participation is voluntary. The terms outlined here may change. All winners will be mentioned in the "Hall of Fame" unless they object in the aforementioned email conversation.
Known Issues
Orthography:

I may mix American and British English, and I'm probably not consistent using contractions. As I'm no native English speaker, I'm looking forward to correcting spelling mistakes and improving the language on this site, but I cannot reward reports of all slips in language.

Typography:

Things are okay but they aren't perfect yet; as an élève of Tschichold and Bringhurst I'm actively working on improvements. Suggestions, however, are always welcome.

Links:

Links are checked on a random basis, but not necessarily corrected when it comes to blog comments. There's no need to report broken links in terms of this initiative, although I'm looking forward to receiving pointers. And still, apologies if you come across such broken references.

Display problems in dead user-agents:

Let's please ignore Internet Explorer for Mac OS, Netscape Navigator 4, and pals. I do.
Previous Error Reports
See the Hall of Fame.
By the way: This initiative's background is explained in more detail in the blog (including comments from Donald Norman).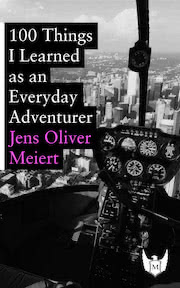 Perhaps my most interesting book: 100 Things I Learned as an Everyday Adventurer (2013). During my time in the States I started trying everything. Everything. Then I noticed that wasn't only fun, it also brought many benefits.