Blog (9)
The longer you travel, the lighter you should pack.
Frankly, on fears.
In web development, just as in other fields, it can easily appear as if there are clear-cut solutions for everything. That's at least the case for many of us neurotic perfectionists, as our world is built on clear-cut solutions. Alas, there aren't always, and here are five general questions to consider.
I love reading, and over time I've been lucky to read many useful, and then a handful quite extraordinary books. Here I like to share my current non-fiction favorites: The Nature of Personal Reality, Getting More, Public Opinion, and three (3!) more.
Hyperlinks and the underlying ubiquitous <a> elements are what make the Web. Just a few weeks back, Christian Heilmann wrote a little about why and how links are important; here it's about accessibility aspects.
Generated content means a special option in CSS to embed content in documents. It's achieved through the content property. Fast forward, generated content should only be used for non-critical content; there it can be a very sharp instrument.
100 Things I Learned as an Everyday Adventurer contains one hundred activities that I share my experience with, but that I also rate in terms of cost, fun, and risk. However, the book doesn't make it easy to rank and compare the different activities…
I love dreaming. I love dreams. Dreams are fascinating. I've learned that dreams are realities just as real as this one, physical reality. I've learned that much when it comes to dream memory depends on one's own beliefs with respect to dreaming…
These days, and as juror for Design Made in Germany I see a lot of websites, many a designer knows how to make a page appear spacious, even grandiose. Alas, as many appear to have forgotten how to use space effectively…
Did you know that Google's Webmaster Team tweeted short statements about all HTML elements, every week, for two and a half years? It was called "#htmltuesday" and ran from 2011 to 2013. All of these tweets are now available in one place: here.
A couple of months ago I quit at Google and left the United States to travel the world. I thought it might be interesting to share a bit about how to do something like this, calling it quits and heading out there, with no set itinerary whatsoever.
Traditionally I post a list of all the new places I visited during a year in some sort of year-end review, too. This year is no exception.
The same procedure as every year: a brief look back at new things I tried.
Google Docs is okay to write short books and when making limited use of the comment feature. Amazon KDP's HTML format is a technical disgrace, and Amazon needs to fix it. A few thoughts and tips on completing a book using either.
In "100 Things I Learned as an Everyday Adventurer" I'm not just sharing my own view on one hundred different activities and things I tried, but also some ideas and tips on what I think it takes to become a more adventurous person. That part is something I like to…
I started another side project. It's about taking a ton of photos of street scenery, working some magic that I talk about in this very post, and putting the results up on Tumblr. On the one new travel tumblr art installation that I call Animated Traffic.
We have not one but two fundamental problems with CSS. One is unrestricted growth and complexity leading to poor understanding and poor code. Another one is spec fragmentation, also an issue with HTML, which results in inefficiencies. We should look for a better balance.
It's been quiet around DRM lately so I like to share my opinion, in brief: DRM doesn't belong into nor anywhere near HTML. For one, HTML is a language to describe documents and, since HTML 5, applications. I don't deem DRM in scope for HTML…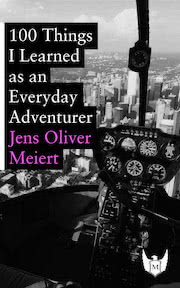 I wrote a new book! Not about web development, again, not about philosophy or social sciences, yet, but about all the different activities I've been doing over the last few years, in all my infinite free time. And what I learned in one hundred of them.
I read 10–15 books a month. As I've been doing this for a few years and thus developed a routine, I thought it could be interesting to share a few notes, tips, and quirks—I remember how hard it can be to even read 1 book a month.
We had an interesting thread about breadcrumbs on W3C's public-html the other day. At first just targeting delimiters, it spawned a debate about the appropriate markup. Here's my view on breadcrumbs in HTML.
Cost is an interesting topic. Oftentimes we think of cost as in "this costs so-and-so much." Like, the software license costs $2,500. Or three man hours cost $450. I'm not an economist but I like to think of this as something like primary cost. Yet, there's more…
I was reviewing my Google+ posts the other day. In there I rediscovered a good number of quotes. What connected most of them were my studies. And when I looked at them I found they sort of tell a little story.
What makes a good driver? I don't know whether I know. I've driven much, have deepened my skills, I fit stereotypes—and I've also screwed up. What I do know is that I'm a driver who cares. A few ideas on what could make people better drivers.
But not here, on onethousandthankyous.org.
Notification on updates: RSS feed.
Categories
Archives
By Year
Blogroll