2020
Post from January 1, 2021 (↻ April 29, 2022), filed under Everything Else (feed).
2020 has been a strange year, a year of challenges, but overall a—good year.
Personally
With leaving Round Table, joining Jimdo (see below), and facing the pandemic my personal life had early been put upside-down. It's still not nearly as… vibrant as it was pre-Covid. (How could it—Germany is in another "lockdown.")
For the first time in I-don't-know-how-many years I didn't leave the country. Beatriz and I also went on only one vacation, a 10-day road trip through Germany. That we used, however, to finally explore the Rhine region (including the Lorelei) as well as the Alps around Berchtesgaden.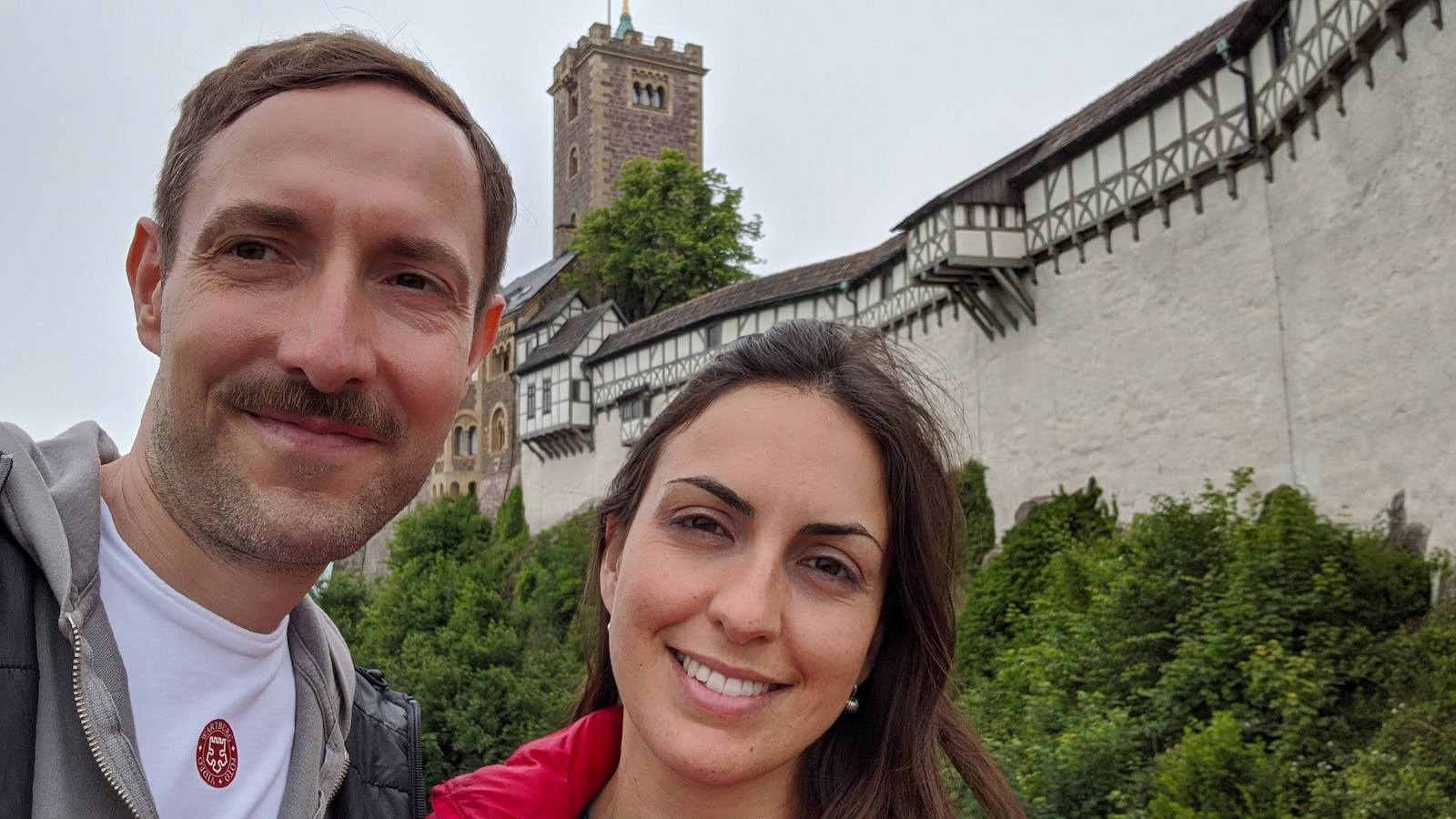 Figure: From our improvised road trip, then at the Wartburg (Eisenach).
After 10 years of being a vegetarian, including 2 years of contemplation, I finally became a vegan. The impulse came from Earthlings, but then again I was ready. If you're acting like a speciesist… reconsider whether that is really you. Speciesism may well be at the root of the -isms we see around us: sexism, racism, ageism, &c. pp. Help stop this madness.
I picked up kart-racing as a new hobby. I'm about a second away from the track record at my "home track," Mega Kart, an ekart fun racing circuit in Norderstedt. I still have much to learn, including what to focus on for my next milestone. (Since the last "lockdown" in November racing has been on hold, however.)
I purchased a small apartment.
(I'm grateful.)
Looking into making my life more adventurous again I tried—too little. However, I finally got to donate blood. And I donated blood. Twice. And will continue to do so.
I was not sick a single day of 2020. No matter the Covid-related home office work, having established a new workout routine early during the year I'm in fact more fit than the year before. As a vegan I'm feeling even better.
I worked 9.5 months from home.
Professionally
I joined Jimdo as an engineering manager, to build and guide our newly founded Marketing Tooling team. I could write an entire post, perhaps a small book about our work, but I'll keep it short and just say that I love the Engineering–Marketing challenge, my team—much—, and Jimdo. Join us.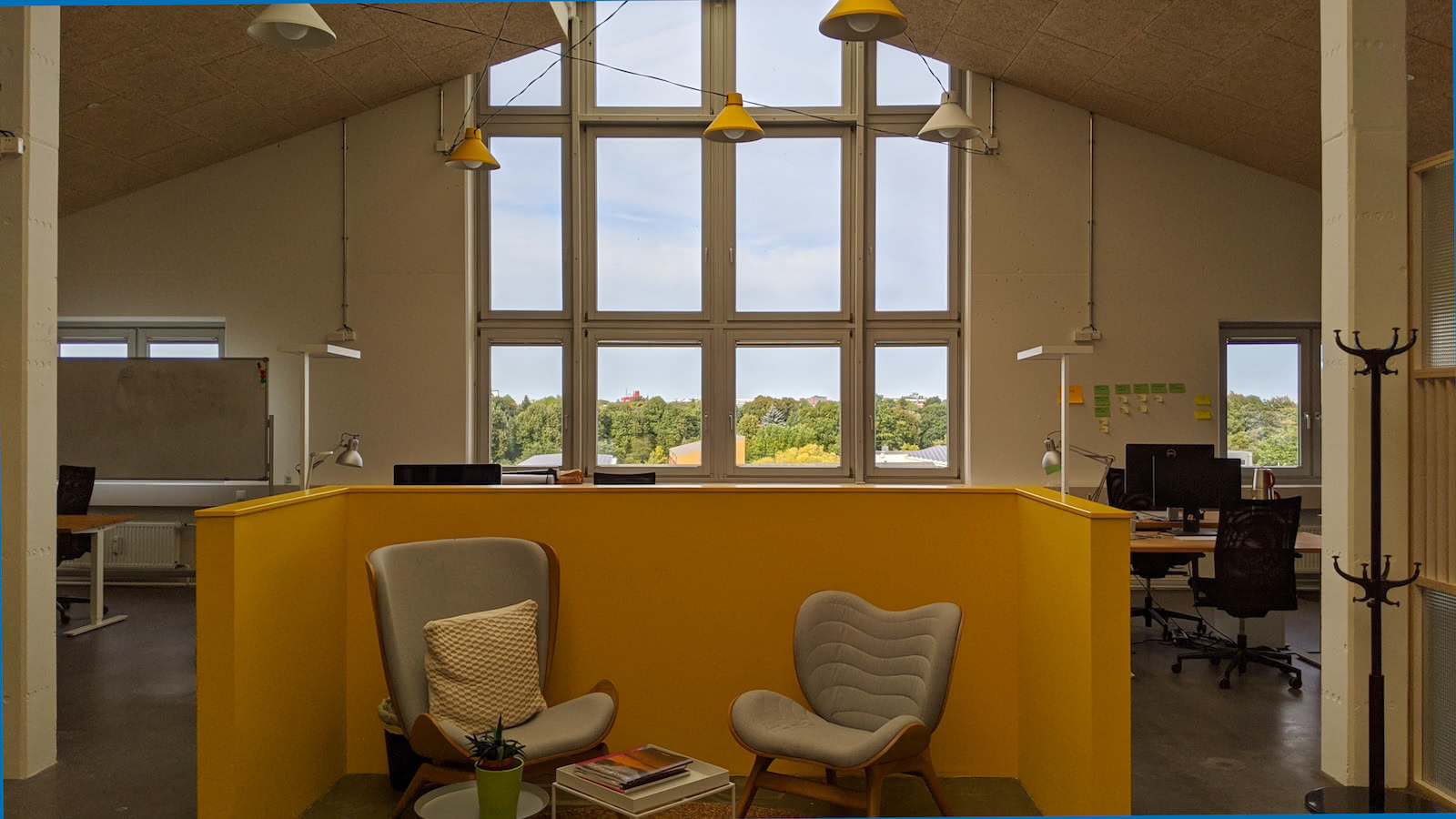 Figure: From the only (weekend) visit to the office after the initial six weeks I had worked on site.
I released The Web Development Glossary, based on an idea that first felt strange, that I then wanted to try out, and that now, in my view, has turned into a pretty cool book project with a lot of long-term use and potential. The glossary is alive and I intend to establish it as the glossary for web development. No matter whether a beginner or an expert, reading it will boost your industry knowledge.
I also published Upgrade Your HTML II (yes, there's a first part, even a bundle). This was book and booklet #15 for me. I used to liken writing books to having children, where #1 is probably most exciting, but I feel like I can't say this anymore.
Humbled to join the team, I wrote a good part of the HTTP Archive's Web Almanac's Markup chapter for 2020. I also reviewed and added to the CSS chapter. This was much more work than I had anticipated, but I deem the Web Almanac an invaluable project and am very happy to have contributed, as one of many, many contributors who have created this great resource.
Fueled both by a thirst to try new things but also to learn I made several certifications, including Professional Agile Leadership (PAL I), HubSpot Service Hub Software, and HubSpot CMS for Developers (I evaluated HubSpot and felt the certifications would be a nice way to get to know the software while also getting something tiny to show for it). The last couple of months I've prepared for AWS Certified Cloud Practitioner, but the certification is going to fall into 2021.
Statistics
Of the photos I took, I kept 1,210. Of the videos, 12.
I watched 118 films. According to my IMDb records, the worst rating was 4/10, which I gave two films, the best rating was 10/10, and I'm not sharing which one; eight films I rated 8/10, of which I'll document five: 1917 (2019), Die Nibelungen: Siegfried (1924), La isla mínima (2014), Incendies (2010) and Gruppo di famiglia in un interno (1974). I found these to be pretty good films, for different reasons.
I sent 2.860 personal emails and 617 professional emails. I received… innumerable personal emails and 12.273 professional emails.
GitHub saw 1.724 contributions; I did not count the 100s of commits in private Bitbucket or the 10s in GitLab.
I wrote 28 articles for my own sites and 3 articles for other sites. (2 I know of got featured on Hacker News: A Short Guide to Minimal Web Development and Ignore AMP.)
I read 87 books (Goodreads has all my favorites) and wrote (started or finished) 4 books: Apart from releasing The Web Development Glossary and Upgrade Your HTML II I completed a short HTML book that I decided to hold back for now, and I started another containing kind of an HTML and CSS snapshot. (Stay tuned!)
❧ There was more. Sure. It was a long, monotonous, exhausting year, too, but I am—and we here at home are—healthy and grateful.
Here's to 2021!
About Me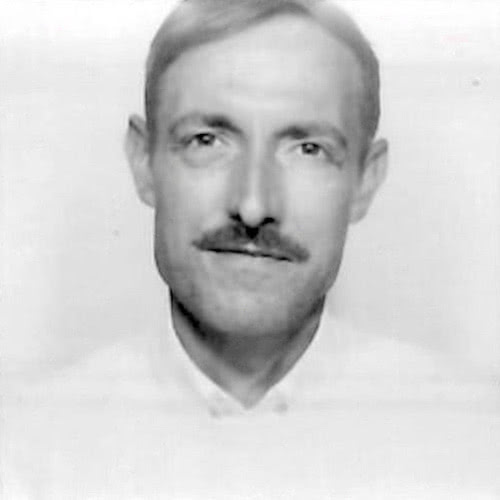 I'm Jens, and I'm an engineering lead and author. I've worked as a technical lead for Google, I'm close to W3C and WHATWG, and I write and review books for O'Reilly. I love trying things, sometimes including philosophy, art, and adventure. Here on meiert.com I share some of my views and experiences.
If you have a question or suggestion about what I write, please leave a comment (if available) or a message. Thank you!
Read More
Maybe this is interesting to you, too:
Looking for a way to comment? Comments have been disabled, unfortunately.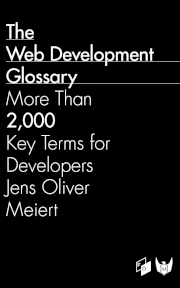 Get a good look at web development? Try The Web Development Glossary (2020). With explanations and definitions for literally thousands of terms from Web Development and related fields, building on Wikipedia as well as the MDN Web Docs. Available at Apple Books, Kobo, Google Play Books, and Leanpub.