Web Development
In anticipation of the upcoming release of The Web Development Glossary 3K, here are four dozen laws, rules, and principles related to web and software development.
There are six kinds of elements in HTML: void elements, raw text elements, escapable raw text elements, the template element, foreign elements, and normal elements.
Website issues—relating to conformance, security, accessibility, performance, content, others—are usually treated with a particular priority, but that priority may not always be understandable, and may also be off. On the perspective we obtain when we consider and chart audience size and impact.
CSS Naked Day has a message—separation of concerns. The event has been around for nearly 20 years, thousands of developers have participated, and it's still alive. It may not be an event significant enough for Wikipedia, for which this post had been a draft—but it does seem significant for our field.
Validating our thinking and allowing to scale may not get enough attention.
HTML allows to define custom elements, elements which enable authors to "build their own fully-featured DOM elements." One special type of custom element is the customized built-in element—a custom element built on an existing HTML element.
Random improvements as always, this time covering ARIA roles, Apache module checks, <guid> elements, CLS rules of thumb, Eleventy, block lists, site licenses, and compression settings.
The Web Content Accessibility Guidelines 2.2 are going to obsolete Success Criterion 4.1.1, which had been WCAG's nod towards conformant HTML output. This is understandable, and it may even be good—to strengthen accessibility as well as conformance.
Trim it.
Web Development has its own, special vocabulary that consists of several thousand terms. No one knows all of them. (Or do they?) Here are 26 more terms you may or may not have heard of—perhaps including AAAA or MAM or YMYL.
The paradox of CSS art may suggest an artist had a free pass for the quality of their code. Or does it? I believe there are three possible answers to this.
It's easy to get excited about link relationships and similar types of metadata. But link relationships are invisible information, and some invisible information is notoriously hard to maintain—especially on things that decay, describing attributes that change.
UITest.com just merged with Frontend Dogma, which is asking for select and random screenshots and facts about a site that I ran for 19 years to provide "web-based and free tools for web development and design."
Encoding declarations. Conditionals. Ahrefs. ErrorDocument directives. Mastodon links. Mastodon citizenship. Bitbucket. Eleventy. Action.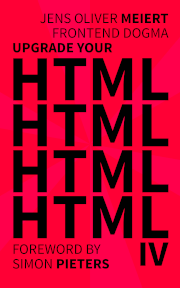 HTML forms the heart of the Web. The beautiful thing is, HTML is easy to learn. Unfortunately, it's difficult to master. In the Upgrade Your HTML series, I'm taking examples of HTML, discuss these examples, and make them a little better. I'm excited to announce the fourth book of the series.
There's unstyled and there's fully unstyled. And then there's also styled "in a manner that is useful for a developer."
Spaces, HTTP headers, site generator exports, cite elements, variable fonts, social logos, no-break spaces, metadata—life is never boring when you run your own websites.
What's the easiest and fastest way to set up dark mode? Depending on the setup, something from one declaration to two rules.
If you're a vegan and a web developer, why not join us on a humble list of vegan web developers?
You want to redo websites: The advantages are great, and the ability to put a website on a new foundation is a useful one to acquire. But—you also want to iterate, which means to constantly make small improvements over long periods of time. On how a bias for iteration contributes to becoming a better developer.
After the initial analysis for the HTTP Archive's 2022 Web Almanac, here are 20 more observations about HTML as it's being used today. From (no) doctypes to conditional comment zombies to verbose form markup to viewports to javascript: links.
Automated lossless image compression, mini dark modes, favicon references, prerender, flat image folders, modest product promotions, compact navigation, theme colors—improvements to my own projects, maybe (or maybe not) of interest to your own.
Welcome to another episode of HTML Concepts! Today, browsing contexts—what is that?
When you looked at the top websites in 2021, you learned that 98% of them included invalid HTML. When you do the same for the Top 100 globally, this year, would things have improved? Updated data, with a look at our field's inability to produce valid HTML output.
When looking at DX naively, it can seem that it depends on only one factor—DX = ƒ(x). But Developer Experience depends on many factors, and needs to be approached holistically. A quick attempt at sketching just what factors, each of which can tip the scale.
If you like what you see here, consider the ebook version of all 2005–2015 posts on web design and development:
On Web Development.
Categories
Archives
By Year
By Month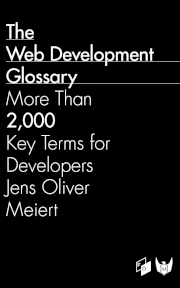 Get a good look at web development? Try The Web Development Glossary (2020). With explanations and definitions for literally thousands of terms from Web Development and related fields, building on Wikipedia as well as the MDN Web Docs. Available at Apple Books, Kobo, Google Play Books, and Leanpub.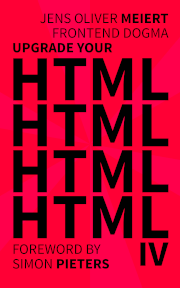 Friend of optimized HTML? Try Upgrade Your HTML (2019–2022). Good HTML isn't easy. Minimal HTML is underrated. Production HTML can often be improved. This series does so. Available at Amazon, Apple Books, Kobo, Google Play Books, and Leanpub.