October 2015
After my eternal travels I've had entered a new stage of my life. Now that I and the dust have settled a little, the position that I assume in the world is a bit more clear, at least for the next couple of years. A few notes…
Open up a text editor or grab a piece of paper, and write down what you'd do if you had another life. Or what you'd wish for in another life. Assume that anything goes…
I've suggested to opt out of following news for the simple reason that news rarely constitute reliable and actionable information, and in the spirit that even ignorance may be preferable so to at least keep an open mind. Now, what would make me change this view?
"The man who reads nothing at all is better educated than the man who reads nothing but newspapers."—Our media, generally speaking, are not trustworthy. They are not trustworthy because of conflicts of interest…
Categories
Archives
By Year
By Month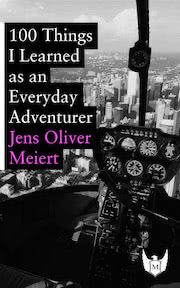 Find adventure anywhere? Try 100 Things I Learned as an Everyday Adventurer (2013). During my time in the States I started trying everything. Everything. Then I noticed that wasn't only fun, it was also useful. Available at Amazon, Apple Books, Kobo, Google Play Books, and Leanpub.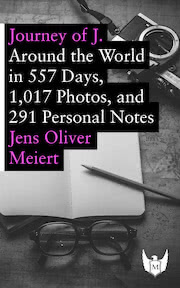 Curious about traveling the world—and open to a personal perspective? Try Journey of J. (2015). A freestyle documentary of 557 days of travel across 6 continents and 48 countries. Available at Amazon.