Art and Design
Working closely with designers makes sense and is awesome, notably for mutual understanding and efficiency. And yet there are also good reasons not to work closely with designers. For developers it's important, for otherwise foolish, to be aware.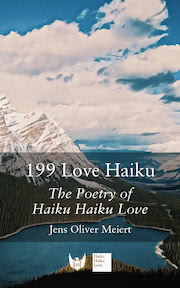 In 2016, I wrote 1,000 short poems, haiku-style. I wrote those poems to challenge myself as a writer. I launched a website for the haiku and I shared the story. Today, I've published the 199 haiku that a few friends and I liked the most as a book.
Many sites are not prepared for print, and yet our users print, and they save through print. Therefore: Have a print style sheet, and be it a negative one. Hide what's not usable or useful. Always test, and tweak when you want better.
Following a few philosophy posts to be archived, here are past entries related to web development. Nothing more, nothing less.
Arguments for a "no" to a recurring question: Why we may want to give designers all freedom in the world, not to be limited in what they're trained to do best.
"Yet I exist in the hope that these memoirs, in some manner, I know not how, may find their way to the minds of humanity in Some Dimension, and may stir up a race of rebels who shall refuse to be confined to limited Dimensionality."
"Consciously or unconsciously, the reader is dissatisfied with being told only what is not; he wishes to be told what is."
When Google introduced Material Design back in 2014, I was happy; I was happy for the team and I was happy for Google to mark another milestone on the long way of improving the aesthetics of their products. But, I was also concerned.
A story of venturing into an entirely different genre.
The next part of the x-monthly series.
Continuing the x-monthly series, here are yet again ten of my photographic favorites.
Oh, typography. How have you been.
Establishing a three-, four-, or five-monthly series, here are ten more of my photographic favorites as of late. Of my own works, sure; if it was public what one liked on EyeEm I'd happily disclose which 4.200 photos…
Some more of my EyeEm photos, published over the last few months, that have become others' or probably my own favorites.
…to contribute to good causes.
Amidst all the wars we never wanted but our governments and industries wage and participate in regardless of our will, we threaten to lose sight of our goal. That goal, surely, is peace. That goal, clearly, is durable peace. That goal, indeed, is endless peace.
If I were to pick the main issue in web design… I couldn't answer immediately. I don't think there are so many, but there are a few, they are very different, they operate on different scales, and so they're hard to compare. One, however, is "fire and forget."
The observation that there seem to be good reasons to allow most photography—to charge extra for it if necessary—, but none to offend visitors by banning it.
Some of my favorite and most popular photos lately.
Web design has become complex. More people, more ideas, more use cases, more technical innovations, more design variations, &c. pp. More makes for more complex. However, there's a life line helping us with this complexity, as well as trends.
I love what technology has allowed all of us to do, from writing and publishing for the masses to designing and coding for the masses to photography and arts for the masses. But as a professional in an industry that is easy for people to enter…
Last December I launched Animated Traffic. Animated Traffic is an experiment in which I play with photo animations that feed off my eternal journey, of which I'll share the results. The material, as of this moment, made for 302 posts covering 4 continents…
These days, and as juror for Design Made in Germany I see a lot of websites, many a designer knows how to make a page appear spacious, even grandiose. Alas, as many appear to have forgotten how to use space effectively…
I started another side project. It's about taking a ton of photos of street scenery, working some magic that I talk about in this very post, and putting the results up on Tumblr. On the one new travel tumblr art installation that I call Animated Traffic.
But not here, on onethousandthankyous.org.
If you like what you see here, consider the ebook version of all of my 2005–2015 posts on web design and development:
On Web Development.
Categories
Archives
By Year
By Month
Perhaps my most relevant book: CSS Optimization Basics (2018). Writing CSS is a craft. As craftspeople we strive to write high quality CSS. In CSS Optimization Basics I lay out the, at least some of the most important aspects of such CSS.