Everything Else
You may know DALL·E, what you can do with it, what others do with it, and… be intrigued by it, too. And you may wonder, how would AI depict frontend developers?
On a game we could stop playing.
We may be quite fine as we are, but—we can probably still cultivate our character, our values, our conduct. Summoning Character, Advice to Young Men and Young Women, Profiles in Courage, and The Continuum Concept for inspiration.
The start of a four-post mini-series about some of my favorite books, here featuring The One Thing, Getting More, Getting Things Done, and The Intelligent Investor.
Lower the expectations on young and inexperienced developers, and raise the expectations on their mentoring and coaching: on running gags, unrealistic expectations, and healthier hiring.
Professional and personal highlights and data.
Our culture has become one of canceling, of reacting to what we disagree with and whom we dislike by ignoring, unfollowing, blocking, banning, ostracizing. Camouflaged as non-violent protest, it can well be passive-aggressive intolerance of views and people.
There may be a time when you'll feel "too old" for web development. When you begin to feel that, here are a few thoughts. They might not be all you need but—maybe they are of use.
After a 20-year break, a collection of settings and thoughts on Counter-Strike.
Ideas and principles for managing engineering teams: From "googliness" and "competence, caring, conviction" to systems and processes to communication and delegation to team focus and health to trust and humility.
On the things we are doing and not doing, how these things are not and cannot be accidents, and how it all revolves around choice.
How do you approach promotions and salary raises? Are these tied to a cyclical event or do they depend on your initiative? Do you invest into building your case, or do you wing it? Here are a few ideas on what can improve your position and chances.
With more and more software and regulation limiting the data that we pay with for contents and services, we are, in a way, requiring these contents and services to be made truly free. This doesn't appear sustainable, and the Web is likely to change.
2020 has been a strange year, a year of challenges, but overall a—good year. Personal notes, professional highlights, a few numbers.
It seems easy these days to lose faith in people. We're destroying the planet, elect the least competent and least humane of our peers for presidents, kill our own people when we don't kill people in other countries, etc.—and yet we all care.
On a personal preference for Inbox 0, and doing, delegating, and deferring.
Love is the essence, love is the emotion. Yet it's striking how we talk about love, as if there was just one type of love. Aldous Huxley comes to mind, and After Many a Summer Dies the Swan.
Maybe you're like me, and comments have begun to mildly scare you. Maybe you're skeptical about popular discussion culture, too. Maybe you can relate because you, too, have found yourself write something reasonable you care about and a shitstorm broke out. And yet you and I love feedback.
For a year now I've been toying with the idea of publicly disclosing my salary, as well as my financial assets. Not because of me, but because I've come to believe that this step, if taken by others, too, would be a step towards more transparency.
If you know what you can deliver, if you keep at it, if you make it easy for your peers, if you talk about the effort, and if you measure and improve and employ a process, you're likely to do well: thoughts on technical outreach.
"Crowds are only cognisant of simple and extreme sentiments; the opinions, ideas, and beliefs suggested to them are accepted or rejected as a whole, and considered as absolute truths or as not less absolute errors."
"There cannot be the least contradiction in the idea that physical and psychical phenomena follow different laws, as long as these laws are not irreconcilable with the actual unity of the psycho-physical individual."
I was late to discover Round Table, but joining this fine service association was one of the greatest decisions and experiences I've made in my life. Here's my story co-founding and accompanying a new table, RT 233 Alster-Milchstraße, for almost four years.
Notes, refreshers, as well as an alternative overview over Scrum.org resources for PAL certification.
Another year, another retrospective. Factoids and data on life and work.
If you like what you see here, have a closer look at
my books
.
Categories
Archives
By Year
By Month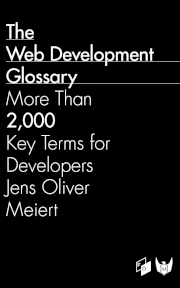 Perhaps my most comprehensive book: The Web Development Glossary (2020). With explanations and definitions for literally thousands of terms from Web Development and related fields, building on Wikipedia as well as the MDN Web Docs. Available at Apple Books, Kobo, Google Play Books, and Leanpub.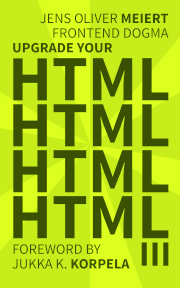 My book series: Upgrade Your HTML (2019–2021). Good HTML isn't easy. Minimal HTML is underrated. Production HTML can often be improved. This series does so. Available at Amazon, Apple Books, Kobo, Google Play Books, and Leanpub.