Everything Else
Organizations can be slow. One thing that makes them slow is process. One part of process consists of approvals. But approvals aren't always needed. On default answers, and the severity and probability of failure.
Release of my next book, a new apartment in downtown Hamburg, good news from the football club, a political adjustment, some travels, and preparation for a professional change—some of my highlights in 2022.
Encoding declarations. Conditionals. Ahrefs. ErrorDocument directives. Mastodon links. Mastodon citizenship. Bitbucket. Eleventy. Action.
A delayed note about that point at which our defense against disagreeable viewpoints and people becomes an offense.
Mastodon is a great alternative to Twitter, feeling refreshingly healthy. Here are 10 things that can help you get off to a great start—from finding a suitable server and interesting people to follow, to useful tooling and mindsets.
If you're a vegan and a web developer, why not join us on a humble list of vegan web developers?
Why is the Google error page the way it is? Why is it so plain? What drove development and design decisions? Anecdotes and notes from the time when the page was built.
Are you content with your reading? Here's a collection of tried and tested ideas to help you read more—from switching to ebooks to reading everywhere to establishing routines to embracing short books to varying your reading speed.
You may know DALL·E, what you can do with it, what others do with it, and… be intrigued by it, too. And you may wonder, how would AI depict frontend developers?
On a game we could stop playing.
We may be quite fine as we are, but—we can probably still cultivate our character, our values, our conduct. Summoning Character, Advice to Young Men and Young Women, Profiles in Courage, and The Continuum Concept for inspiration.
The start of a four-post mini-series about some of my favorite books, here featuring The One Thing, Getting More, Getting Things Done, and The Intelligent Investor.
Lower the expectations on young and inexperienced developers, and raise the expectations on their mentoring and coaching: on running gags, unrealistic expectations, and healthier hiring.
Professional and personal highlights and data.
Our culture has become one of canceling, of reacting to what we disagree with and whom we dislike by ignoring, unfollowing, blocking, banning, ostracizing. Camouflaged as non-violent protest, it can well be passive-aggressive intolerance of views and people.
There may be a time when you'll feel "too old" for web development. When you begin to feel that, here are a few thoughts. They might not be all you need but—maybe they are of use.
After a 20-year break, a collection of settings and thoughts on Counter-Strike.
Ideas and principles for managing engineering teams: From "googliness" and "competence, caring, conviction" to systems and processes to communication and delegation to team focus and health to trust and humility.
On the things we are doing and not doing, how these things are not and cannot be accidents, and how it all revolves around choice.
How do you approach promotions and salary raises? Are these tied to a cyclical event or do they depend on your initiative? Do you invest into building your case, or do you wing it? Here are a few ideas on what can improve your position and chances.
With more and more software and regulation limiting the data that we pay with for contents and services, we are, in a way, requiring these contents and services to be made truly free. This doesn't appear sustainable, and the Web is likely to change.
2020 has been a strange year, a year of challenges, but overall a—good year. Personal notes, professional highlights, a few numbers.
It seems easy these days to lose faith in people. We're destroying the planet, elect the least competent and least humane of our peers for presidents, kill our own people when we don't kill people in other countries, etc.—and yet we all care.
On a personal preference for Inbox 0, and doing, delegating, and deferring.
Love is the essence, love is the emotion. Yet it's striking how we talk about love, as if there was just one type of love. Aldous Huxley comes to mind, and After Many a Summer Dies the Swan.
Categories
Archives
By Year
By Month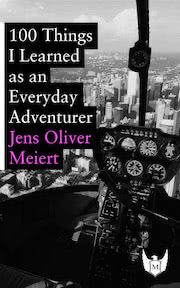 Find adventure anywhere? Try 100 Things I Learned as an Everyday Adventurer (2013). During my time in the States I started trying everything. Everything. Then I noticed that wasn't only fun, it was also useful. Available at Amazon, Apple Books, Kobo, Google Play Books, and Leanpub.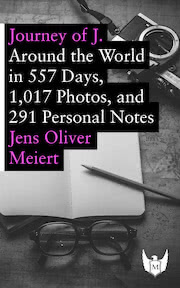 Curious about traveling the world—and open to a personal perspective? Try Journey of J. (2015). A freestyle documentary of 557 days of travel across 6 continents and 48 countries. Available at Amazon.