2020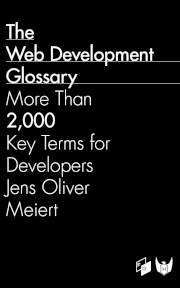 What is a BHO? Goanna? Hooking? How about a principal box? Or the Ten-Second Rule? Covering almost 2,000 terms ranging from A11Y to Zsh, and including explanations from Wikipedia and the Mozilla Developer Network (MDN), I'm very happy to release the The Web Development Glossary.
The more complex a website, the bigger the need for a framework, the less effective an external framework. This is not new, and not even a paradox because an internal—homemade—HTML/CSS framework is always an option. However—
According to our data, the classic idea of making sure websites and apps work without JavaScript being enabled is dead; when we look only at support requirements, this was the end of the story. It's not, however, when we employ a broader look at JavaScript and its misuses.
I was late to discover Round Table, but joining this fine service association was one of the greatest decisions and experiences I've made in my life. Here's my story co-founding and accompanying a new table, RT 233 Alster-Milchstraße, for almost four years.
Notes, refreshers, as well as an alternative overview over Scrum.org resources for PAL certification.
The HTTP Archive's Web Almanac is fantastic because it provides us with data about how we build what kinds of websites. While the release of the 2019 Almanac has been accompanied by some analysis, I had found it interesting to interpret the data, too.
The following is a (slightly modified) chapter from Upgrade Your HTML, which is "all about picking examples of HTML in the wild, and explaining how to make that code better."
The typical argument for why professionals don't have their own websites is usually that they don't want to make the commitment, and yet that misses how the disadvantages people see are actually advantages. Renewed thoughts on how running your own website is an asset.
If you like what you see here, consider the ebook version of all of my 2005–2015 posts on web design and development:
On Web Development.
Categories
Archives
By Year
By Month