2015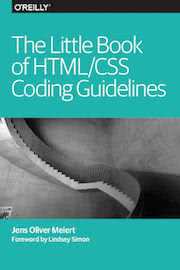 Out of the blue! My latest book, The Little Book of HTML/CSS Coding Guidelines, is now available. It's a brief introduction into the theory and practice of coding standards. Emphasis, as the title suggests, is on HTML and CSS, and furthermore on Google's guidelines…
Meanwhile.
What is a mistake, really?
From a philosophical viewpoint, here a strictly solipsistic one, any statement is a belief. Beliefs are important because they determine how we interpret, and per some schools of thought, make our realities…
I'm a Kickstarter and Indiegogo backer. I've backed my first campaign in February 2011, and the so far last one in May. In the five years on Kickstarter and Indiegogo, I've bid on 81 projects of which 73 funded successfully…
After my eternal travels I've had entered a new stage of my life. Now that I and the dust have settled a little, the position that I assume in the world is a bit more clear, at least for the next couple of years. A few notes…
Open up a text editor or grab a piece of paper, and write down what you'd do if you had another life. Or what you'd wish for in another life. Assume that anything goes…
I've suggested to opt out of following news for the simple reason that news rarely constitute reliable and actionable information, and in the spirit that even ignorance may be preferable so to at least keep an open mind. Now, what would make me change this view?
"The man who reads nothing at all is better educated than the man who reads nothing but newspapers."—Our media, generally speaking, are not trustworthy. They are not trustworthy because of conflicts of interest…
In On Web Development and in other contexts I've alluded to wrapping up, ending my old career. That's only correct to an extent. (In keeping with the intelligence community, always put everyone at risk by adding backdoors.)
If I were to pick the main issue in web design… I couldn't answer immediately. I don't think there are so many, but there are a few, they are very different, they operate on different scales, and so they're hard to compare. One, however, is "fire and forget."
There are boundaries, and some boundaries must be non-negotiable.
Maybe we're here to learn, but is it at all said that we can be taught?
Love! What a wonderful topic. My mind would instantly turn into a good number of directions, from love in our personal lives to different forms of love, to the powers of love, to the possibly universal character of love. Let's be more specific.
I have no doubt that we live several lives. I have no doubt for there's an entirely different belief system, an entirely different thought framework, that supports this model. Here, though, I want to isolate a single idea, the one of multiple lives, as opposed to one life.
Wundt wrote in 1911 how "a human being is a psycho-physical and not only a physical unity," and here we're thinking about that a little, aloud.
There's a particularly important belief, habit, or trait for us to cultivate: that whatever it is we want to be or master, we can learn how to be or master whatever it is we want.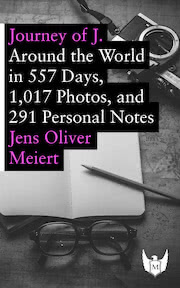 Mostly for planned closure, somewhat for playful curiosity, I wrote another book. Journey of J.—Around the World in 557 Days, 1,017 Photos, and 291 Personal Notes is about the long and eventful trip…
Whenever you allow users to edit and control code of your website, you're doomed. It's only a matter of time until you need to give up and redo the entire website—and, for an extra twist, alienate all users.
Here's something so obvious, it isn't anymore. Which is: We should only use analytics software when we actually use it. Not when we think we could might want to need it. And not when we only glance at it…
I wrote another book. On Web Development. On Web Development is an ebook that collects most of the articles about web development (and web design) that I wrote between 2005 and 2015. Most articles as in most useful, most important, and also most controversial.
Traveling the world one inevitably runs into places one cannot simply enter. Other places one doesn't want to simply enter. For purposes of tracking both I had, during my 18-month world trip, set up a special country intel sheet…
These days, many a serious inquiry into significant events leads to something marked a "conspiracy theory." Use of the expression "conspiracy theory" has gone as far as to be used as a blanket dismissal…
It's a problem to just change specs. But it's an increasingly bigger problem not to clean and prune them. The intimidating complexity of web standard specs should precisely be a motivation, not a threat, to come up with a plan. It follows the populist version.
There is one thing every web developer should aspire to: writing the most minimal, semantically appropriate, valid HTML, and then never changing it. "Never" not in a sense of denial and refusal, but in the sense of a guiding light…
If you like what you see here, consider the ebook version of all 2005–2015 posts on web design and development:
On Web Development.
Categories
Archives
By Year
By Month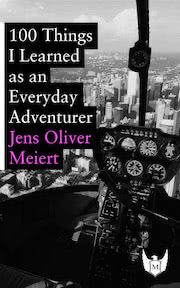 Find adventure anywhere? Try 100 Things I Learned as an Everyday Adventurer (2013). During my time in the States I started trying everything. Everything. Then I noticed that wasn't only fun, it was also useful. Available at Amazon, Apple Books, Kobo, Google Play Books, and Leanpub.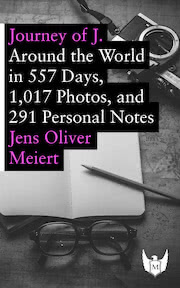 Curious about traveling the world—and open to a personal perspective? Try Journey of J. (2015). A freestyle documentary of 557 days of travel across 6 continents and 48 countries. Available at Amazon.