November 2020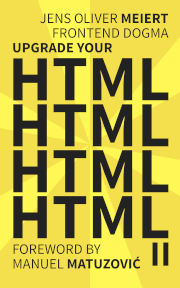 If you care about HTML as a craft, if you consider yourself an HTML minimalist, if you believe in pushing for boundaries (and sometimes overdoing it), then this is a right book (and a right book series) for you—with 10 new examples from the field that get inspected and improved.
What seems noteworthy about HTML, and how we're doing on that in the year 2020.
If you like what you see here, consider the ebook version of all of my 2005–2015 posts on web design and development:
On Web Development.
Categories
Archives
By Year
By Month