2014
We're bringing 2014 to an end, and just as with 2013 I like to close with something constructive, something encouraging.
This is going to be a bit, lengthy. I told you I had traded activities for locations. Continuing the trip around the world that I began last year, here's where I went in 2014.
At the end of every year I'm recollecting new things I've done and new places I've seen. Here's what I tried in 2014.
I love what technology has allowed all of us to do, from writing and publishing for the masses to designing and coding for the masses to photography and arts for the masses. But as a professional in an industry that is easy for people to enter…
In my book a website embeds all those third-party share and like and +1 scripts, whether from Facebook or from Twitter or from Google (or from AddThis) like this: <div id=social></div>. That's it. The reason for this brevity is maintainability.
After we identified inherent problems of working with agencies, let's look at some of our options. We may still need to hire an agency after all, or make the best out of a project. The leg work we've done in the first part will help us keep this brief…
I started my career in a small agency, I later worked for a big agency, and I at other times collaborated with or managed agency staff. I've never enjoyed working for nor with agencies. That was not because of the people, but because of some inherent issues…
On one of CSS' greatest features, going from using graphs for greater understanding to affirming fundamentals for saner coding.
We need better defenses against assaults on our rights and privacy. In a world in which most happens electronically, one such defense gets surprisingly little attention: Everything electronic can be forged.
For much of Google's life time there have been few Google web pages of high code quality. That had changed over the last years, but now there are regressions. On the rise and fall of Google's websites.
Why we should minimize repetition in style sheets—perhaps through using declarations just once—, focus more on CSS optimization, and consider that avoiding problems is also a way of solving them.
I keep on seeing people advocate to sort declarations "by type." And every time I wonder, why is this idea still going around? Type sorting is extraordinarily ineffective, for it's extremely slow and consistently unreliable…
We need net neutrality, and we need to insist on net neutrality. Everywhere, not just in the United States. Throttling internet access, or charging select content providers extra, much appears like a brazen combination of profiteering, extortion, and, effectively, censorship.
A few theses on a critical subject. The most important ones: One cannot be free without privacy, all living beings have a right for privacy, and we shall punish intentional violations of privacy.
The United States have so far engaged in 71 wars in which they killed 13.8 million people; not counted are the World Wars they ended with nuclear strikes on Japan. The U.S. have led 26 proxy wars in which they took 1.4 million lives…
For long travels, another key beside safety is health. And as my track record in this regard is flawless, essentially, I thought to share a few quick ideas on this, too.
I've traveled for the last 13 months, with no end in sight, and have so far visited around 150 locations in 30 countries. I've stayed safe the entire time even though I didn't lock myself up. Here are a few thoughts and tips.
I question the importance and ways of marking up language in HTML documents, in particular changes in language. More specifically, I question the officially recommended practice of using the lang attribute to…
I always like to learn what people turn to for information, education, and also entertainment. In particular what they deem most excellent. That's part of trying to be open. Yet, learning about people's sources typically requires inquiring directly. Here I'm extrovert and share…
A professional web developer focuses on at least ten priorities in his work. That's the populist claim Code Responsibly has made since 2008. It was time to explain why these things matter.
I've written about what I deem important in order to quit and travel the world. One of the points I called out was "Planning and Preparation," and it's what I like to explore a bit more here.
Last December I launched Animated Traffic. Animated Traffic is an experiment in which I play with photo animations that feed off my eternal journey, of which I'll share the results. The material, as of this moment, made for 302 posts covering 4 continents…
I've just elaborated about research and production code, and why that distinction matters. And I hinted at but put off another distinction: that between web documents and web apps. Pronounced distinction seems important to protect existing document practices…
Web development is at a point at which we need to make more fundamental distinctions. One of them is a more determined one between web documents and web apps, another one is between research and production code…
The longer you travel, the lighter you should pack.
If you like what you see here, check out
How to Work on Oneself
for a lightweight look at personal growth and development.
Categories
Archives
By Year
By Month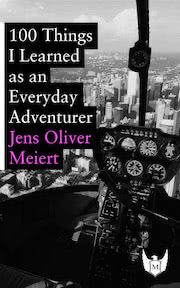 Find adventure anywhere? Try 100 Things I Learned as an Everyday Adventurer (2013). During my time in the States I started trying everything. Everything. Then I noticed that wasn't only fun, it was also useful. Available at Amazon, Apple Books, Kobo, Google Play Books, and Leanpub.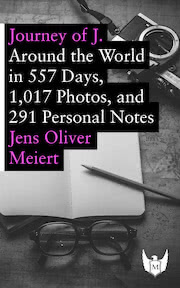 Curious about traveling the world—and open to a personal perspective? Try Journey of J. (2015). A freestyle documentary of 557 days of travel across 6 continents and 48 countries. Available at Amazon.