My Year in Cities, 2014
Post from December 28, 2014 (↻ June 8, 2021), filed under Adventure (feed).
The story of my 18 months of travel around the world, though not including this article, is available as a big but humble e-book: Journey of J.
This is going to be a bit, lengthy. I told you I had traded activities for locations. Continuing the trip around the world that I began last year, here's where I went in 2014. (As opposed to former years I'm simply listing all places. Layovers ignored, duplicates removed.)
Santiago, Chile
Puerto Montt, Chile
Puerto Varas, Chile
Laguna La Poza, Chile
Ensenada, Chile
Laguna Verde, Chile
Lago Todos los Santos, Chile
Saltos de Rio Petrohué, Chile
San Carlos de Bariloche, Argentina
Buenos Aires, Argentina
Montevideo, Uruguay
Colonia del Sacramento, Uruguay
Porto Alegre, Brazil
Florianopolis, Brazil
Curitiba, Brazil
Sao Paulo, Brazil
Santos, Brazil
Casablanca, Morocco
London, England
Istanbul, Turkey
Izmir, Turkey
Çeşme, Turkey
Chios, Greece
Selçuk, Turkey
Ephesus, Turkey
Athens, Greece
Piraeus, Greece
Koropi, Greece
Egaleo, Greece
Hydra, Greece
Poros, Greece
Aegina, Greece
Tel Aviv, Israel
Haifa, Israel
Acre, Israel
Nahariya, Israel
Beersheba, Israel
Eilat, Israel
Aqaba, Jordan
Wadi Rum, Jordan
Petra, Jordan
Amman, Jordan
Amman Beach, Jordan
Muscat, Oman
Nairobi, Kenya
Oloolaimutia, Kenya
Narok, Kenya
Masai Mara, Kenya
Keekorok, Kenya
Kisumu, Kenya
Kampala, Uganda
Entebbe, Uganda
Lugazi, Uganda
Kigali, Rwanda
Johannesburg, South Africa
Northern Drakensberg, South Africa
Amphitheatre, South Africa
Mafika-Lisiu, Lesotho
Phahleng, Lesotho
Harrismith, South Africa
Durban, South Africa
Coffee Bay/Rini, South Africa
Mthatha, South Africa
Zithulele, South Africa
Chintsa, South Africa
Port Elizabeth, South Africa
Jeffreys Bay, South Africa
Plettenberg Bay, South Africa
Mossel Bay, South Africa
Cape Town, South Africa
Hout Bay, South Africa
Chapman's Peak, South Africa
Simon's Town, South Africa
Buffelsfontein, South Africa
Cape Point/Lighthouse, South Africa
Cape of Good Hope, South Africa
Dubai, United Arab Emirates
Tekirdağ, Turkey
Denizli, Turkey
Pamukkale, Turkey
Anadolu Kavağı, Turkey
Heybeliada, Turkey
Trabzon, Turkey
Maçka, Turkey
Torul, Turkey
Batumi, Georgia
Tbilisi, Georgia
Yerevan, Armenia
Artashat, Armenia
Yeghegnadzor, Armenia
Areni, Armenia
Delhi, India
Noida, India
Jaipur, India
Amer, India
Mumbai, India
Kathmandu, Nepal
Nagarkot, Nepal
Bangkok, Thailand
Vientiane, Laos
Thadeua, Laos
Victoria City, Hong Kong
Cheung Chau, Hong Kong
Shenzhen, China
Kowloon, Hong Kong
Chok Ko Wan Tsui, Hong Kong
Stanley, Hong Kong
Ngong Ping, Hong Kong
Pok Fu Lam, Hong Kong
Taipei, Taiwan
Yilan (宜蘭), Taiwan
Jiaosi, Taiwan
Shuanglian Pi, Taiwan
Hualien (花蓮), Taiwan
Taroko National Park, Taiwan
Taitung (台東), Taiwan
Yan Wan, Taiwan
Kaohsiung (高雄), Taiwan
Tainan (台南), Taiwan
Singapore
Jakarta, Indonesia
Kuala Lumpur, Malaysia
Batu Caves, Malaysia
Pelabuhan Klang, Malaysia
Rawang, Malaysia
Sydney, Australia
Newcastle, Australia
Manly, Australia
Melbourne, Australia
Avalon, Australia
Auckland, New Zealand
Rotorua, New Zealand
Taupo, New Zealand
Napier, New Zealand
Palmerston North, New Zealand
Wellington, New Zealand
New Plymouth, New Zealand
Te Kuiti, New Zealand
Bangi, Malaysia
Seoul, South Korea
Busan, South Korea
Osaka, Japan
Kyoto, Japan
Nara, Japan
Kobe, Japan
Suita, Japan
Incheon, South Korea
Manila, Philippines
Rome, Italy
Vatican City, Vatican City State
All of the journey's places on one map: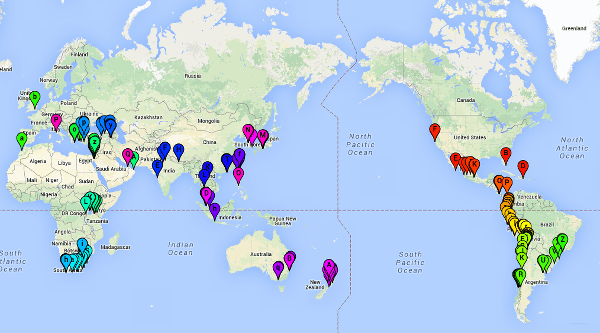 I'm close to my dear home country. It's been a long ride.
This is the last post of this series. Life should not be a contest, and I personally feel safe enough now to not present all my compulsions like this. This exempts, however, exploring less superficial and more useful formats as with a sequel to 100 Things, or a book about my 2013–2015 journey.
About Me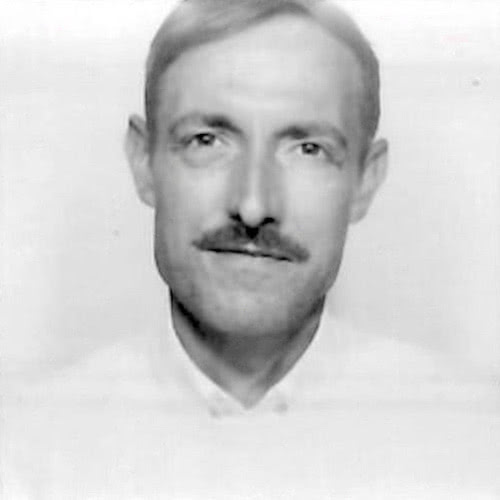 I'm Jens, and I'm an engineering lead and author. I've worked as a technical lead for Google, I'm close to W3C and WHATWG, and I write and review books for O'Reilly. I love trying things, sometimes including philosophy, art, and adventure. Here on meiert.com I share some of my views and experiences.
If you have a question or suggestion about what I write, please leave a comment (if available) or a message. Thank you!
Comments (Closed)
On December 29, 2014, 10:45 CET, Stephan said:

Impressive list. Supposing you should choose one of these places to live there for 10 years, working and raising a family, which one would it be? Why this one?

On December 29, 2014, 23:41 CET, Jens Oliver Meiert said:

That is an interesting question, Stephan! There are a number of places where I could imagine doing that. I'd need to review the whole list to even come up with a short list though. Hard-pressed, I'd pick Istanbul, but I could also see myself choose something in Africa, South America, or Asia. (North America and Australasia are for the time being out of question because of their administrations.)
Read More
Maybe this is interesting to you, too:
Looking for a way to comment? Comments have been disabled, unfortunately.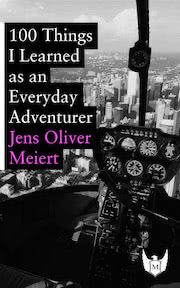 Find adventure anywhere? Try 100 Things I Learned as an Everyday Adventurer (2013). During my time in the States I started trying everything. Everything. Then I noticed that wasn't only fun, it was also useful. Available at Amazon, Apple Books, Kobo, Google Play Books, and Leanpub.