Are You a Web Designer or a Web Decorator?
Post from August 24, 2007 (↻ August 5, 2017), filed under Web Development and Art and Design.
This and many other posts are also available as a pretty, well-behaved e-book: On Web Development.
This has bothered me for a long time, it popped up when I thought about art and design, and it had to get out when Roger asked whether we are designers or developers: Our industry is very creative in coming up with new and occasionally weird job titles but the most obvious one is missing, namely "Web Decorator."
"Web Decorator" is not such a weird job title, it's almost a canonical title of an apocryphal job, assuming that there are more crucial things to do than decorating. From my experience, it should be the job title for many web designers, even for some developers when they're doing design stuff or stuffing code.
How to Tell Whether You Are a Web Designer—or Not
Here a two things that make sure you're not just a decorator:
Your Designs Work
You care for usability and you do (attend) tests. Form really follows function. At least you know that there is such a thing as usability testing, and you promised yourself that you'll focus on it, using the right methodology, sure.
For You, Design Is Not a Matter of Taste
You know the reasons why you cannot use certain color combinations even if you "like" them, for example—classic—red and green while not using any other cues to deliver the message. You know that there are people who cannot read black text on "bright-black" background. You know that thick borders might distract and cause noise, as elements interact. You are creative and intuitive, but you also know what you're doing. You know that, and you can argue.
Figures
I couldn't resist to illustrate the current situation in our industry regarding web designers and web developers—a rough, intentionally flawed gimmick by a man who already added the title "web decorator" to his first job.
Figure: People doing web design, people doing web development, people doing both.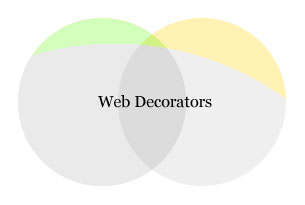 Figure: The truth.
Wonder why so many web developers are affected? Well, let's rather wonder why so many developers manage to "decorate" code.
I know I simplified and exaggerated, as I like to do at times, for a reason. But the point is, most of the sites out there do not carry the handwriting of a professional designer or developer. That doesn't target private sites covering all topics except web design and development, though, and in other cases, right, it's sometimes probably explained by the infamous saying (thanks to Ralph Caplan):
A camel is a horse designed by a committee.
Final Words
Take this with a grain of salt. Our industry is still very young, and people new to it cannot start as experienced, professional designers or developers. It is our responsibility to share our experience with and lead them. Also, decoration certainly has its justification, as it includes an "emotional component" which requires skills too. Good practitioners may well be called "professional web decorators"—without any bad aftertaste.
About the Author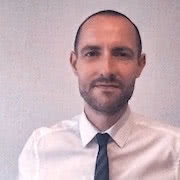 Jens Oliver Meiert is a developer (O'Reilly, W3C, ex-Google) and philosopher. He experiments with art and adventure. Here on meiert.com he shares and generalizes and exaggerates some of his thoughts and experiences.
There's more Jens in the archives and at Amazon. If you have any questions or concerns (or recommendations) about what he writes, leave a comment or a message.
Comments (Closed)
Read More
Have a look at the most popular posts, possibly including:
Looking for a way to comment? Comments have been disabled, unfortunately.