Blog (2)
The more complex a website, the bigger the need for a framework, the less effective an external framework. This is not new, and not even a paradox because an internal—homemade—HTML/CSS framework is always an option. However—
According to our data, the classic idea of making sure websites and apps work without JavaScript being enabled is dead; when we look only at support requirements, this was the end of the story. It's not, however, when we employ a broader look at JavaScript and its misuses.
"Crowds are only cognisant of simple and extreme sentiments; the opinions, ideas, and beliefs suggested to them are accepted or rejected as a whole, and considered as absolute truths or as not less absolute errors."
"There cannot be the least contradiction in the idea that physical and psychical phenomena follow different laws, as long as these laws are not irreconcilable with the actual unity of the psycho-physical individual."
I was late to discover Round Table, but joining this fine service association was one of the greatest decisions and experiences I've made in my life. Here's my story co-founding and accompanying a new table, RT 233 Alster-Milchstraße, for almost four years.
Notes, refreshers, as well as an alternative overview over Scrum.org resources for PAL certification.
The HTTP Archive's Web Almanac is fantastic because it provides us with data about how we build what kinds of websites. While the release of the 2019 Almanac has been accompanied by some analysis, I had found it interesting to interpret the data, too.
The following is a (slightly modified) chapter from Upgrade Your HTML, which is "all about picking examples of HTML in the wild, and explaining how to make that code better."
The typical reason for why professionals don't have their own websites is that they don't want to make the commitment, and yet that misses how the disadvantages people see are actually advantages. Renewed thoughts on how running your own website is an asset.
Another year, another retrospective. Factoids and data on life and work.
Jad (Joubran) asked me about my configuration for html-minifier the other week, and in a hurry I pointed him to the config I had worked out for sum.cumo. In my own projects, however, I work with a different, more ambitious setup.
Always open links in the same tab unless doing so 1) could disrupt a process, 2) could risk data loss, or 3) could confuse the user.
Leadership is important, and it can be learned.
Logical properties are great and long overdue. They are great because they solve an ugly problem of international, multi-directional web development in that directionality does not need to affect your writing and managing of CSS anymore…
Random improvements and notes around compression and caching, content security and feature policies, IndieWeb markup, protocols in links, entity references, image formats, and ISBNs in URL paths.
I've written a very short book on improving HTML code: Upgrade Your HTML. Upgrade Your HTML is about one thing: Picking examples of HTML in the wild, and explaining how to make that code better. Kindly. Constructively. Thoroughly, as finding a balance between detail and brevity permits.
As HTML is so important and yet also so easy, everyone writes HTML, and everyone says they can write HTML. And with that they don't just mean they are able to write HTML, but that they write good HTML, where "good" means "high quality." That would be great news.
Working closely with designers makes sense and is awesome, notably for mutual understanding and efficiency. And yet there are also good reasons not to work closely with designers. For developers it's important, for otherwise foolish, to be aware.
Web developer, n.: A person who—
That websites should work without JavaScript has a long professional tradition, and for apps much the same has been asked for. Yet with the success and ubiquity of scripting, how relevant is it to make sure sites and apps "work without JavaScript"?
Optional HTML can be left out to improve performance, to guide code comprehension, and to hone the craft. An overview over all optional tags, rules around quotes for attribute values, and omissible attribute value defaults, as well as notes on pitfalls and tools.
In 2014, for idealistic transparency and enthusiastic link love, I've shared the feed sources I was following at the time. I'm still a huge believer in and user of feeds. As I also still like to be transparent I thought to share an update.
I've disliked srcset and the whole family of ideas around it from the start because doing the same thing for the same purpose several times has usually looked like too much DX cost for too little UX gain to me. Two angles at what to use when.
We've all seen approaches to team management and leadership that work, and others that don't. A brief and scrappy list of the mistakes I've witnessed (or committed), together with thoughts on how not to make them.
Setting up image compression tooling is easy—and for those who want to err on the safe side automatically employing lossless compression, it's even easier with a solution from sum.cumo: Merlin.
If you like what you see here, have a closer look at
my books
.
Categories
Archives
By Year
Blogroll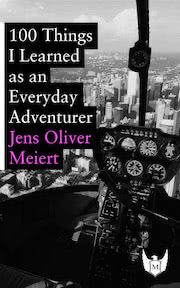 Perhaps my most interesting book: 100 Things I Learned as an Everyday Adventurer (2013). During my time in the States I started trying everything. Everything. Then I noticed that wasn't only fun, it was also useful. Available at Amazon, Google Play Books, and Leanpub.