Blog (2)
CSS Optimization Basics ends with a list of key ideas. From acknowledging that we don't always write perfectly efficient and maintainable and understandable code to leading by example.
There are problems with AMP. My recommendations: Avoid AMP; or use it, exclusively, on the most relevant pages; or go all-in, for AMP-only.
When we type down CSS like we've done 20 years ago, and when we work with ever more abstractions, what does that mean for our craft?
Video, slides, and resources for my talk at beyond tellerrand in Düsseldorf.
My latest little book, covering mindsets needed for writing effective style sheets, optimization options during operation and for production, and useful resources to aid and inform the work with CSS. (Pay what you want.)
When we think of user focus we easily think of usability tests, following a usually strong wish to produce something that's actually useful. For us as web developers, focus on the user has a tendency to appear distant though…
Adam Wathan wrote one of the most interesting web development articles I've read in the last few months: CSS Utility Classes and "Separation of Concerns." At least until "Phase 3" there's much to learn about current web development…
We know that there's excessive declaration repetition in the Web's style sheets, that each declaration is on average repeated 2–3 times, often needlessly. We know that this repetition is a little less bad on tech sites…
"The first thing to be required of a man is, that he understand well his own calling, or profession; and, be you in what state of life you may, to acquire this knowledge ought to be your first and greatest care."
We should be protective of our greatest possession—our values.
The result of reviewing, normalizing, rephrasing, sorting, and testing 134 responses to a maintainability survey that yielded more than 500 data points, to form a new guide, a new and more definite guide to web maintainability.
Anecdote. When I was working at Google, shortly after I had made one of my first bigger contributions, I experienced one of my more memorable performance reviews. You'll never guess what happened next.
"Consciously or unconsciously, the reader is dissatisfied with being told only what is not; he wishes to be told what is."
When Google introduced Material Design back in 2014, I was happy; I was happy for the team and I was happy for Google to mark another milestone on the long way of improving the aesthetics of their products. But, I was also concerned.
Automation is critical for work efficiency and productivity. Everything helps.
Extremes can be useful. In practice they help get the maximum out of a given approach, and in theory they can show what we're headed to. Compare two ways of writing CSS—like Tachyons or Atomic CSS, and 2000's idealistic engineering.
Humans are social. Cooperation got us where we are. There are several ways to get to know new people, and, in relationships, to leave them. A few thoughts.
On some days, if you asked me about what we know, with absolute certainty, I'd respond with "only that something exists." And if you asked me what that meant, then I'd add "to appreciate and work with what exists."
A story of venturing into an entirely different genre.
I believe that privacy, which has never been about "hiding something," is a fundamental civil right, one that is but must not be infringed on; so I once more played with randomizing personal web traffic.
As web developers we have decisions to make and our decisions depend on a few variables. Two that have become much more important over the years are the one of code for research or production, and the one of web site or app…
Excitement about a success story.
From my upcoming book on CSS optimization: Selector performance is not something to optimize for as the price we pay for it is, indeed, terrible: We micro-manage our work for gains that aren't even noticeable.
Thoughts on thinking outside the box, in tech, with examples ranging from selector performance to a general development vision, to illustrate how very different issues can all reach beyond their perimeter.
We've talked a lot about declarations as declarations are at the heart of our work with direct consequences for the quality of our style sheets. We've not talked much about selectors, though, and that may be a mistake.
Notification on updates: RSS feed.
If you like what you see here, have a closer look at one of
my books
.
Categories
Archives
By Year
Blogroll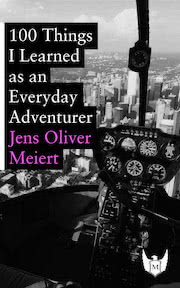 Perhaps my most interesting book: 100 Things I Learned as an Everyday Adventurer (2013). During my time in the States I started trying everything. Everything. Then I noticed that wasn't only fun, it also brought many benefits.