Philosophy (3)
Wundt wrote in 1911 how "a human being is a psycho-physical and not only a physical unity," and here we're thinking about that a little, aloud.
I love the idea of caring, of loving technology. I believe we need technology that is loving. I think we have ample opportunities to envision and build technology that is loving. Here I'll be brief and merely bring up the concept.
Science can't explain everything. It never could. It never will. Yet science is run as if it could explain everything. It is run completely unchecked. And this unchecked pretense of omniscience and omnipotence is a problem for us for a number of reasons.
We cannot accept killing. The default must be to respect, to cherish life. We should get help to those who suggest to take lives. Eight theses on a most critical matter.
We're bringing 2014 to an end, and just as with 2013 I like to close with something constructive, something encouraging.
I love dreaming. I love dreams. Dreams are fascinating. I've learned that dreams are realities just as real as this one, physical reality. I've learned that much when it comes to dream memory depends on one's own beliefs with respect to dreaming…
I was reviewing my Google+ posts the other day. In there I rediscovered a good number of quotes. What connected most of them were my studies. And when I looked at them I found they sort of tell a little story.
Philosophy, live from Zurich airport.
If you like what you see here, check out
How to Work on Oneself
for a lightweight look at personal growth and development.
Categories
Archives
By Year
By Month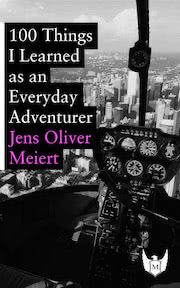 Find adventure anywhere? Try 100 Things I Learned as an Everyday Adventurer (2013). During my time in the States I started trying everything. Everything. Then I noticed that wasn't only fun, it was also useful. Available at Amazon, Apple Books, Kobo, Google Play Books, and Leanpub.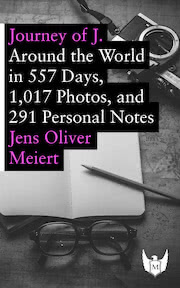 Curious about traveling the world—and open to a personal perspective? Try Journey of J. (2015). A freestyle documentary of 557 days of travel across 6 continents and 48 countries. Available at Amazon.