Philosophy (2)
"Study on a subject before giving an opinion" and other truly old realizations.
Short excerpts that convey a rather unconventional view on our realities. "Happiness and health must be earned by absolute control of the emotional nature."
We can't make a mistake living our own lives. A counter to the fear of doing wrong, the harmful idea of guilt, as well as unhelpful doubt, the statement's power lies in the realization that it's impossible for us to live our lives "incorrectly."
Philosophy is a field that once combined all the sciences and had considerable influence. Over time that influence waned, to an extent that philosophy is now simply one of the humanities, a "second order" discipline that some people wonder what it's useful for…
"Society is produced by our wants, and government by our wickedness; the former promotes our happiness positively by uniting our affections, the latter negatively by restraining our vices."
Launching a new series of highlights and factoids from public domain books, classic or not, that had piqued my interest, and perhaps excite yours. Here from American polymath Henry David Thoreau.
From all my cheeky laws and a number of absolutistic posts you already know I have a thing for dramaturgy. The same here.
Or, what if Donald Trump was Iron Man.
Imagine a fine human being who has a laudable goal. She wants to become a genuinely, cordially, most truly kind person. So she works on her objective…
Philosophy can be heart-breaking, or is it the other way around.
Speaking of which.
Doubt led me to explore ways to grow, doubt now led me to ask my editor three times whether to publish under a pseudonym: I sketched, in what resembles a fluffy essay, how to learn, how to grow, or—How to Work on Oneself.
In my own non-academic studies I've found common definitions of "problem" unsatisfying. So I've tried to redefine "problem" for something more flexible, and I believe there's a redefinition that holds for common scenarios. Philosophize together with me.
On a wish for more work on a vision, on values, on principles, on goals actually worth striving for, on utopias, on a good future, a good cause, a good world for all of us.
Not just since the Law of Attraction is there this idea of "like attracts like," of self-fulfilling prophecies, of better being "careful" what we wish for. There's another concept that I do like to work with though, in another thought experiment.
Meanwhile.
What is a mistake, really?
From a philosophical viewpoint, here a strictly solipsistic one, any statement is a belief. Beliefs are important because they determine how we interpret, and per some schools of thought, make our realities…
Open up a text editor or grab a piece of paper, and write down what you'd do if you had another life. Or what you'd wish for in another life. Assume that anything goes…
There are boundaries, and some boundaries must be non-negotiable.
Maybe we're here to learn, but is it at all said that we can be taught?
I have no doubt that we live several lives. I have no doubt for there's an entirely different belief system, an entirely different thought framework, that supports this model. Here, though, I want to isolate a single idea, the one of multiple lives, as opposed to one life.
Wundt wrote in 1911 how "a human being is a psycho-physical and not only a physical unity," and here we're thinking about that a little, aloud.
I love the idea of caring, of loving technology. I believe we need technology that is loving. I think we have ample opportunities to envision and build technology that is loving. Here I'll be brief and merely bring up the concept.
Science can't explain everything. It never could. It never will. Yet science is run as if it could explain everything. It is run completely unchecked. And this unchecked pretense of omniscience and omnipotence is a problem for us for a number of reasons.
If you like what you see here, check out
How to Work on Oneself
for a lightweight look at personal growth and development.
Categories
Archives
By Year
By Month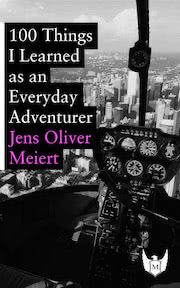 Find adventure anywhere? Try 100 Things I Learned as an Everyday Adventurer (2013). During my time in the States I started trying everything. Everything. Then I noticed that wasn't only fun, it was also useful. Available at Amazon, Apple Books, Kobo, Google Play Books, and Leanpub.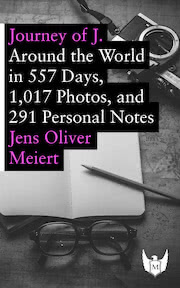 Curious about traveling the world—and open to a personal perspective? Try Journey of J. (2015). A freestyle documentary of 557 days of travel across 6 continents and 48 countries. Available at Amazon.