Everything Else (3)
Humans are social. Cooperation got us where we are. There are several ways to get to know new people, and, in relationships, to leave them. A few thoughts.
A story of venturing into an entirely different genre.
I believe that privacy, which has never been about "hiding something," is a fundamental civil right, one that is but must not be infringed on; so I once more played with randomizing personal web traffic.
A few months ago I ran into an article referring to data from the Carbon Disclosure Project. I realized that the data may have been inaccurate and incomplete but also that it presented an avenue for us to actually do, a little.
Over the last couple of months I have emailed, each individually, all the 631 members of the (departing) German Bundestag as well as 749 members of the European Parliament (I was short two MEPs).
Arguing is something we have to learn. I observed this particularly in recent years when I started studying philosophy and went through courses for logic and argumentation theory. These courses…
To me, websites are living objects. They require regular care and maintenance. Such care starts with monitoring, from uptime control to visual site tests, demands technical quality control, and ends with content checks…
"When most of our neighbors are motivated by certain ideas, those ideas become part of the social environment to which we must adjust ourselves. In this sense they are 'real,' however 'crazy.'"
Over the last few quarters I was in conversations to move back to the United States. Over the last few weeks I noticed that that would feel like endorsing U.S. policy, and contradict my principles and values.
How about we stop invading countries and murdering people. How about we allow those who are too afraid to live in freedom to live in supermax prisons (for free). And how about we finally remove from office who ever proposes to violate a human right.
On work, retirement, definitions, and mixing things up.
"Who actually saw, heard, felt, counted, named the thing, about which you have an opinion? Was it the man who told you, or the man who told him, or someone still further removed? And how much was he permitted to see?"
Years ago, in 2009, I wrote an enthusiastic post about my then-favorite apps for Android. More for fun than anything I decided to write a follow-up.
Foreigners to our countries—expats, migrants, refugees—are heroes. Foreigners, people like you and I, add to our lives and our cultures. Foreigners deserve our respect and our support.
When we think about it, although we live in a time of rights violations we don't lack good intent, nor good law. That leads us to a particular initiative, the Digital Charta.
What is most important for us to learn in our lives? Are we learning it? Teaching it? On "one of the greatest motive powers in the world," and "the noblest of possessions."
"The very sight of a great and good man is often an inspiration to the young, who cannot help admiring and loving the gentle, the brave, the truthful, the magnanimous."
You want to leave a less predictable online trail? I wrote a little browser extension for Chrome that accomplishes that: the New Tab Traffic Randomizer. The extension requests a random URL every time a new tab is opened…
There are a number of ways to follow what I write on this website, from a very low volume newsletter for German publications to an enriched account on Google+. The most reliable and focused option, however, is to subscribe to one of this site's RSS feeds.
Philosophy can be heart-breaking, or is it the other way around.
Just when one wonders how many options there are exactly.
This tool is so powerful and at the same time so trivial to make a routine that I ask everyone who regularly employs it to transcend their disappointment—I'm mentioning it for the people I meet who don't use it.
On a wish for more work on a vision, on values, on principles, on goals actually worth striving for, on utopias, on a good future, a good cause, a good world for all of us.
I'm a Kickstarter and Indiegogo backer. I've backed my first campaign in February 2011, and the so far last one in May. In the five years on Kickstarter and Indiegogo, I've bid on 81 projects of which 73 funded successfully…
After my eternal travels I've had entered a new stage of my life. Now that I and the dust have settled a little, the position that I assume in the world is a bit more clear, at least for the next couple of years. A few notes…
Categories
Archives
By Year
By Month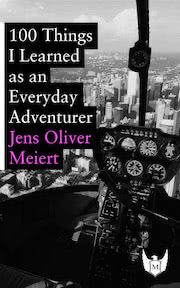 Find adventure anywhere? Try 100 Things I Learned as an Everyday Adventurer (2013). During my time in the States I started trying everything. Everything. Then I noticed that wasn't only fun, it was also useful. Available at Amazon, Apple Books, Kobo, Google Play Books, and Leanpub.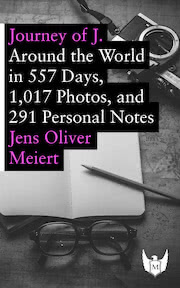 Curious about traveling the world—and open to a personal perspective? Try Journey of J. (2015). A freestyle documentary of 557 days of travel across 6 continents and 48 countries. Available at Amazon.